Today Is Not The Day
February 8, 2011
She looks across at me. Those eyes, I shall never forget. They were a blaze with hatred and madness. There is also something else…sadness? How could she be sad when she's been waiting so long to kill me? To take my life? I've been struggling to avoid her for months, but it has gotten so hard. I see here everywhere I go, everywhere I look, she's there. I can't get away from the dark evil that pulsates through her veins.

I look again. Her expression has changed. Loneliness, depression, sadness and regret. Regret for what's about to happen? Her blue eyes were once beautiful and had a happy sparkle that was once always there. Now it's the darkest of grays. The sparkle and happiness disappeared from her life once It happened. It was an accident, but it could've been prevented. I didn't mean for it to turn out the way it did…

I look at my reflection a third time. The madness has returned it, I can see it and also feel it flowing through me. I can't stop it. I can't ever forgive myself. It was my entire fault. The mirror shows my outside, but everything is laid out on my face anyways. Anyone could tell what I was thinking.

Looking down at my hands, I see the rope intertwined through my fingers. I walk over to my closet and start to play the game I always start at this time. If the phone rings before I put the rope over the bar, I'll stop. I walk slowly, just like usual, but this time I pause before opening my closet.

Tears form in my eyes. I lift my arms to the top shelf to get the box. Maybe today is the day. I place the box on the floor. I continue to make a noose at one end of the rope. The tears are flowing freely once I finish. I reach my arms again towards the bar where I tie the rope.

Ring! Ring! Ring! I let go of the breath I hadn't realized I was holding.

Today is not the day.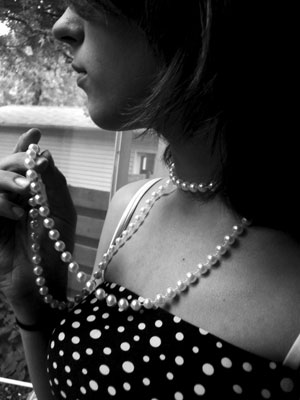 © Elaina V., Canton, OH