My Horrid Past
March 25, 2011
My name is Max and I came into the world on May 25, 1997. That's not my story, it's when I dropped out.
It all happened on a slightly chilly midnight on May 24, 2007 I was fast asleep when a sudden crash from down stairs startled me up. I sat up and looked around my room, and then I heard footsteps coming up the stairs. Now terrified I lay in bed hopping it wouldn't decide to drop by my room first. As it walked closer toward my room and my parents' room I kept my eyes locked on the phone near my bed. Then I heard the silent cries of my mom then two gun shots that broke the still silence. I quickly lunged for the phone and dialed 911. "Hello." A young woman answered. "Someone broke in and they have a gun, they are in my parents' room and I think they shot them." I whispered quickly and silently. "Calm down please tell me where you live." She said calmly. Before I could answer the door suddenly sung open and a man dressed in black walked in. I froze in complete shocked, the woman on the other end trying to contact me. "Say one word and I pull the trigger." He uttered placing the gun on the left side of my head. I took a deep shaky breath and looked at the dark hallway at my mom's and dad's opened door. "Help" I whispered into the phone and then the man pulled the trigger. I fell on my back onto my bed letting the phone slip out of my hand. The man picked up the phone and turned it off then walked out. I laid there my head throbbing in pain my vision becoming blurry. I stared at the clock, staring at the still numbers of 12:59 just minutes from my ten year old birthday. Then they moved they came to life striking one in the morning. I closed my eyes hopping to subside the pain, seeing red and black then I fell asleep.
Suddenly I sat up no pain. I looked around then smiled and ran toward my parents' room. No one was inside but then I heard the sirens brake through the dark silent night. I ran down stairs and out the door. I saw what looked like millions of police cars and ambulances. I saw my dad talking to a police officer who was writing things on a notepad. My mom was crying on my dads shoulder and he looked like he may cry too. I ran up in front of them and said, "Mom dad I'm okay look I'm right here!" They didn't seem to notice me. Then my mom lifted her head. " Why would someone kill an innocent boy, my baby boy?" She sobbed. "Mom I'm right here I'm not dead!" I cried as I watched a few of the ambulance crew run into the house.
Nothing as if I weren't alive. I turned toward the male police officer my eyes full of tears. "Tell them I'm right here tell them I'm not dead!" I cried now crying. It's like they can't here or see me. I turned back to my parents and lunged to hug them but I flow through and landed face first behind them. Then the ambulance crew ran out of the house someone on the rolling bed. I stood up to get a better look and saw me. The bullet wound, my chest perfectly still so pail I looked like snow. Then I finally realized what was going on. I looked at my hands then I looked down. "Why?" I sobbed. " Why me why now?" Then something landed in front of me. I looked up and saw a boy about my age maybe older. Jet black hair and very bright blue eyes. He wore a dark blue almost black shirt and wrangler pants. " Come on." He smiled. He was here to take me to heaven but I wasn't going to move not an inch. His smile faded. " Your not going to stay here are you?" I nodded. " What are you going to do they can't see you they can't hear you." He explained. "I'm not dead." I uttered then he looked down. "Isn't your body proof enough?" He cried. I looked at my lifeless body. " I'm not moving." I snapped then he grabbed my arm and pulled me away from the crushing scene toward the forest. " No I never got to say good bye!" I screamed trying to resist being pulled. Then I remembered the small pocket knife that my dad had given me and it may be my only reminder that they existed. I pulled it out and lunged for the boy slicing his upper left eyebrow. He screamed and let go but before I could take my first step of freedom he lunged for me grabbing my arms and again pulling me away from my life. Now letting him pull me away I stared at my house as we grow farther and farther away. "Never!" I thought. "Never again well I remember this day never again well I celebrate my birthday. And I promise that who ever killed me well pay and until I find them I won't rest until I do." Then it hit me a ghost is invisible no mortal can see them. " And never again though I wish I could I'll never be able to see my mom and dad." But ever since then my greatest birthday wish is to , even if for the last time, see my parents and to just say I love them and I never left.

Max Quapell

To remember my past even though it hurts too much to.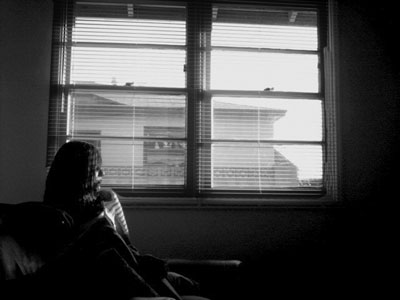 © Roxana R., Tustin, CA