Graffiti heart
May 11, 2011
The room fills with the soft light of the sunrise as I lay, gazing into the beautiful display of colours, stretching it's long fingers across the clear bluebell sky. I smile to myself, then frown. I have the strange feeling something bad was going to happen today. Something that was going to change my life forever.
I race downstairs, fully dressed, as Mum calls my name.
"These were just delivered for you," she hold a bouquet out toward me.
I take the flowers from her. A breathtaking array of scarlet blossoms, brilliant white lilies and dramatic black roses. But who could have sent them?
I arrange them into a burgundy vase. I study the flora one last time before reading the card.
'Check your school bag.'
I gawped dumbly at the scrawl. It seemed such a strange thing to write.
Curious, I pull the bag from the cupboard. Unzipping the fabric, I rummage through the books and revision sheets until I find a small card, with the image of a graffiti-style heart, like the one that had come with the bouquet.
'Find the third heart.'
It doesn't make sense.
"Monique!" Mum calls my name again. But this time, she doesn't sound happy.
I find her in the kitchen. She glares at me and points to the wall. "Would you like to explain?"
I follow her gaze to find a heart, like the one on the cards, had been painted over the plaster.
"I didn't do it!" I stammered. I turned to find I was alone.
I wandered into the hall, calling. "Mum? Mum? Mum!?"
A shrill scream echoed through the unadorned building.
I race through, frantically searching each room.
I found my mother's body, laid across her bed, the graffiti heart slashed into the skin of her stomach, the crimson blood soaking hurriedly into her shirt.
Before a scream has the chance to pass my lips, a hand clamps over my mouth, something metallic buried between my shoulder blades.
"Scream, and I'll shoot," a voice hissed down my ear. The hand moved from my mouth, and skilfully fastened my hands behind my back.
I find myself being fastened, blindfolded, into the back of a car.
After what felt like hours of a roaring engine, I am dragged into the cold fresh air. The thick fabric covering my eyes slips, the scarlet light of sunset blinding me.
I look around to find myself in the last place you would ever want to be in at a time like this. The blood-red rays spill over the graves, into the freshly-dug hole at my feet.
"Get in, Monique," a voice demanded. Then I realised how I knew the voice.
"Ben?" I turn to see him, the boy who sits next me in almost every class, thanks to the non-imaginative alphabetical boy-girl seating plans. Much to my embarrassment, he'd asked me out a week ago, in the middle of English.
As much as I like Ben, I was already seeing someone. If I hadn't, I would have considered it. But he completely zoned out, a million miles away, as I tried to explain.
"Get in," he snarls through his teeth. He shoves at my shoulder with the butt of his gun.
I glance down the hole. Already fitted with a coffin, the earth's wound seems as uninviting as the barrel pressing against my chest.
"What are you doing?" my voice quivers.
He looks up at me, his puppy-dog eyes drowned in sadness. "You said no."
I fall into the grave as the bullet tears through my chest.

I stand behind Ben he positions my bouquet of scarlet blossoms, brilliant white lilies and dramatic black roses on my nameless grave. The graffiti heart was engraved where my name should have been.
I reach towards him as he stands. My hand, pale and transparent, doesn't materialize through his body as I expect it to.
He chuckles. "Your grave's beside mine."
Dumbfounded, I glance across at the mossy, weathered headstone. 'Benjamin Rudnick.'
Ben wraps his arms around mine. Gently tucking a lily behind my ear, he whispers, his voice lost in the wind.
"Now you can't say no."
I bury my face in his shoulder, and all I can see in the darkness of the twilight is my ever-haunting graffiti heart.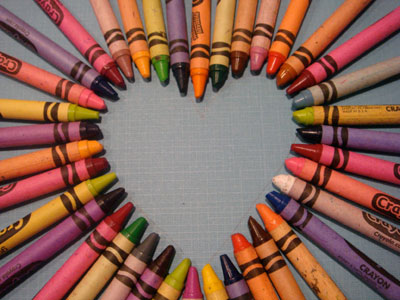 © Ashley W., Rockford, MI