Jodi Picoult Imitation Piece: The Promise
June 6, 2011
The Apple Store, the Mall
Dec. 21st, 2010
4:27 PM

Ipod Touch. Sixty-something gigs or gags or whatever. Something ridiculous. Where are those freaking computer experts when you need them?
This is what Ella was thinking about when she heard the piercing explosion of sound. Her next thought, which seemed pretty justified in that all-too-close-to-the-holidays moment was "I hope that wasn't at Coach. Julie wants a freaking gift card."

123 Appletree Lane
Dec. 16th, 2010
2:51 AM

Aaron was lying in bed, talking to his beautiful girlfriend on the phone, just like every other blissful night since mid-June. He had called her at midnight to wish her a happy anniversary. It was their 6-month. The next day, when he finally got to see her after a long week apart, he was going to give her the promise ring that had once belonged to his mother, before she left. He remembered that day well. He was nine years old; that age where you're blissfully ignorant, contentedly thinking that all mommies cry, all daddies hit mommies, and that all mommies leave. One day, she just calmly took the promise ring off, along with her engagement ring and wedding band, and left the house with nothing. Aaron never saw her again. She never wrote, called, or anything. She just vanished into thin air. He imagined her sometimes, with another family that loved her and a husband who treated her right. That had made made him happy for a while, until his father started to take out his frustration on him. Then, he was just jealous and angry. Why should she get to leave, when he was stuck in the house of horrors? But it didn't matter. Now the ring was going to someone who deserved it. Her name was Julie. God, he loved her so much. He loved the sound of her voice, the smell of her golden hair, the feeling of wrapping his arms around her delicate waist, and the spark of their kiss. She was perfect in every single way Aaron could imagine. He couldn't picture his life without her in it.
"Aaron, honey," she said on the night that changed everything. "I don't really know how to say this, and I really hope that you'll forgive me someday, but I've been cheating on you. With Mike. I think we should break up. I'm so sorry."
Oh. Well that changes things.

Johnny Rocket's, the Mall
Dec. 21st, 2010
4:24 PM

In some ways, Julie was thrilled to be rid of Aaron. It's not that she didn't love him, because she did. He just got so clingy sometimes. And other times, these ridiculous things would come out of his mouth. She clutched the necklace that he had once given her, and remembered what he said when he handed it over.
"What would you do if we were the only two people left on earth? A lot of the time, I wish that's how it was. I want to get rid of everyone out there except for you, and then I'll be happy."
Maybe it was his tone of voice, or something to that effect, but it was a little unnerving. And plus, she just really missed being single. She wanted to go out with her friends and be allowed to flirt and have fun and hook up. She found it really unfair that she had to be home to wait for his phone call every night, or make sure that he wasn't worrying about her. So she stopped worrying about it. She went out and had fun anyway. Of course, now she felt horrible. How could she not? Aaron was such a sweet kid. And he undoubtedly loved her more than Mike ever did or would. Maybe she'd made a mistake.
She picked up another order from the counter. When she turned around, there was Aaron standing behind her looking distraught. Then she looked down and saw the gun.
"I thought you were different from my mom, love. I was wrong I guess. I'll always love you, but I have to say goodbye and let go now. Bye, darling."
The last thing she heard was a piercing explosion of sound.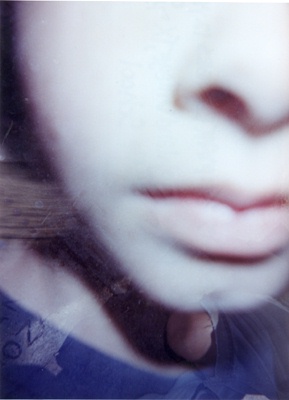 © Matt R., Highland Village, TX