Dead Weight
July 15, 2012
The empty country road was left unprotected from the sun, and the young woman's arms and legs- exposed in a tank top and short-shorts- were bronzed to a deep gold.

Hearing the rumble of an engine, she turned to see an old pick up truck appear at the top of the hill, a man who appeared to be in his late thirties behind the wheel.

Grinning, she allowed her backpack to thump to the ground as she casually held out one arm, turning her thumb up to the sky, as if she had done the exact same thing dozens of times before.

The man stopped, as they always did once they caught sight of her scantily clad body shining in the sunlight. As he reached over to open the passenger door for her, the woman leaned down to pick up the dead weight of her backpack off the ground.

She slid easily into the truck, and almost immediately the key was pulled out of the ignition and the locks on the doors clicked.

One hand still resting on the lock button, the woman dropped the keys by her feet and slipped something out of her pocket that flashed sharp and silver in the sun.

Smiling dangerously, she leaned closer to the man who had yet to notice what she was holding. "Thanks for stopping."


It was days later when someone found an old pickup truck on the side of a country road, the body of a man inside. The man appeared to be in his late thirties, and, no mater how long the police searched, they could not find his right hand.

As police swarmed the old pickup truck on that country road, the young woman walked along a different road, her backpack- which was slightly heavier now- resting on her shoulders. When she spotted a car coming towards her, she let the dead weight of her backpack thump to the ground.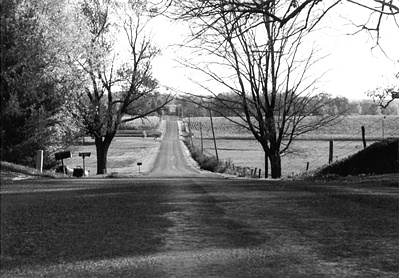 © Amy J., Sebring, OH