Just In Case
MAG
August 11, 2012
It's snowing, but I can see the sun. It's sunny, but I'm freezing.
I have to get home before the sun goes down. It doesn't look like it will. It's still glowing in the middle of the sky. I think it's being quite useless today – I feel no heat at all.

I trudge on, backpack clinging heavily to my shoulders, hands stuffed in my pockets. My feet barely come off the sidewalk as I walk; I'm leaving long trails behind in the snow so someone will be able to find me, just in case something happens.

Just in case.

Something glistens at the edge of my vision, and I stop immediately.

Shiny.

I look over to the snow-coated field. It looks like something delicious, really – like a fluffy blanket of cotton candy or maybe whipped cream.

I can't see anything, so I move to the side a little.

Shiny.

It blinds me. I cringe and put a hand over my eyes.

A moment later, I'm wading through the snow toward the shiny. My jeans provide protection from the snow for only a second. Soon, my thighs and calves are numb, my jeans soaked.

I slow down as I move closer to the shiny. I have to be sure I don't accidentally plow right on through it. My shadow falls over it, and I see that it's a silver key.

A key and only that.

It lies lightly on the snow like someone had laid it there as gently as possible. But there are no marks around it – not a single disturbance in the snow, aside from my own foot trails.

I look up at the sky. It's cloudless and deep blue. Not a bird in sight, not even a crow. I squint to see the bare treetops of the woods nearby. The birds are as scarce as the leaves.

I look back to the key.

Even if it had dropped from the sky, it would have sunk into the snow.

Suddenly the hairs on the back of my neck began to prickle, and despite the cold, I start to sweat. There has to be something underneath that key to keep it resting just above the snow. Bizarre theories flash behind my eyes. A particular image stays.

There's a dead man lying under the snow. The key is attached to a string around his neck. His skin is white and blue. His eyes are closed, but if I reach down and take his key (Where or what does it go to? A safe? His house?), they will snap open and he will grab me.

I stagger back at the thought and in my haste, I trip, landing in the snow. It gets in my coat and freezes my rear, but I hop up immediately and stumble back toward the sidewalk. I'm halfway there when I hear a loud crunch of snow behind me. The sound does not belong to my movements.

(What could it be?)

I start to look back in terror, but then I lose concentration and the field disappears.

I blink and find myself back where I started, standing on the sidewalk next to a smooth, empty white field of snow. My socks are starting to get wet from the snow leaking into my boots, but otherwise, I'm completely dry.

I sigh and look up to the sky. The sun beats down without warmth as it starts to set. Flakes of snow spiral to the ground. I have to be home soon, so I start shuffling forward again. I barely lift my feet off the ground as I go. I want to leave a trail behind so someone will be able to find me, just in case ….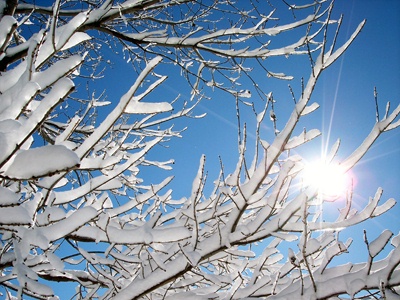 © Barbara S., Hoffman Estates, IL