Runaways
April 1, 2013
I drag my feet in front of me as I walk down the street.
Hurt. I hurt everywhere. It's not an agonizing kind of pain (I've experienced that enough for this lifetime), but a pain full of longing and hopelessness. Five years I've dealt with this. Five years I've had to deal with the pain. I scratch my cold, cruel metal arms, pretending they're like any other human being's in this world. I imagine soft, cool flesh to touch, but instead I find harsh iron and titanium. There is no feeling, no potential in my metal limbs. All I do is think as hard as I can to keep moving, one foot in front of the other. Because Tigris is counting on me.
I don't blame her completely for the incident. It wasn't all her fault. She couldn't have controlled her Mutation. No one can, really.
But because of her, I'm a monster. Inside and out. I will never forget that treacherous day in which my life was ruined. I try to hide it from her, I really do. But, all the while I'm desperately frightened that if she finds out, she'll leave me. Forever. And I will never be sane without her. She keeps me going. Keeps me determined. And, besides, if she finds out she'll be crushed with guilt. She'll never look at me the same way again.
Tigris follows behind me, silently. Her hood covers her face and pointed, striped ears. She cradles Katie, her kitten, under her orange jacket, hidden by the dense fabric.
She's so… catlike. With those slits for pupils (all Mutants have them) and sneaky personality, her Mutation really defines her. Of course, Tigris is not her real name. That's just what I started calling her since we met. She doesn't know what she did to me that night. She thinks I was immune to the scratch. But every full moon, I'm forced to the thought that I'll have to tell her why I've been acting so strange lately… Someday.
But not today.
The memory suddenly washes over me like a giant tsunami wiping out cities, so clear that it feels like it could've happened yesterday. A poor, homeless boy roaming the street's trash cans for food. A black and orange flash beside me. Teeth ripping into flesh. Agony. Full blown agony, the type you've never experienced in your whole life, like a thousand knives stabbing at every part of your body. Desperation. A scream. Ambulance. Growls. Blackout. Then, I remember waking up in the Forest, under a tree. A girl eleven years old walks over to me cautiously. I reach for my arms, to make sure they're still healthy and well. There's metal. Sudden panic. Then, ultimate peace. She sings to me and lulls me to sleep. I give in. I trusted her. Until I found out whom she really was: my attacker, a stealthy tiger Mutant. Half human, half animal. I shiver. Is that what I'm turning into?
I have no idea why I go through all of this in my head at this time. Maybe it's because we're finally on our way to temporary safety and I'm nervous. Or maybe it's because I can feel Tigris's eyes burn into my back as I walk. What is she thinking to be so close behind me when we're supposed to be far apart and inconspicuous? She'll ruin everything!
I'm about to say something to her when a group of citizens rush past us in a perfect line. They grunt, push, mutter. But they do it in an orderly fashioned way, like they're robots, moving at the exact same pace.
Now that I think of it, I guess I'm a robot just as well. My heavy arms feel limp as I walk.
I feel a gentle poke on my back. I tilt my head toward Tigris, but still look forward. We take careful precautions when it comes to public traveling, considering every bounty hunter is after us at the moment. She knows that, so she must have to tell me something pretty important to risk the chance of damaging our cover.
"Are you alright, Trix?" Tigris hisses. "You seem fidgety. You're trembling."
"Yeah," I whisper, irritated. I roll my eyes even though I know she can't see me. However, I know what I said was a lie. I'll admit, I'm anxious to meet the rebel Mutants at their hideout and especially nervous for what's going to happen. I don't even know if the so-called "Mutant clan" we're supposed to help is real. We only heard two men talking softly about it beside us on our way to the dark Alleys. You could say we were eavesdropping, yes. But once we hear the word, "Mutant," we have to listen in. I guess when you lose all hope you get more and more gullible.
"Move it!" I hear someone yell behind me. I whip around to a group of angry citizens. Then I realize I've stopped right in my tracks. It's probably been up to two minutes since I've come to a halt, due to the whole line of screaming citizens lining up behind me; they're plaid shirts wave in the wind. I remind myself that they're not used to this kind of major disruption. They like routines without interruption.
I've given myself way too much attention.
"I-," I begin, "I'm…Sorry!" I back away slowly with my hands up. I don't know why I do this, but it's a sudden instinct.
That's when I get the urge to run. To run away from all the aggravated faces, all the loud, unkind remarks. I run from Tigris's shrill voice calling out to me, but nothing registers. Everything's a cloudy haze in my mind. I see mouths open, people screaming at me. Police surround the streets. I hate this, hate them for making me a street rat, for making me a criminal, for making me a deadly metal- armed Werewolf.
I have to get out of here.
Now.
I dash to the nearest Alley I see and dart for the darkness that surrounds it. My metal arms clink as I move them. I need to be alone. To think things through. I hear shouts, screams, and sirens, but everything is muffled to my ears. I think of Tigris being caught in the streets, panicked. What have I done to her?

You could say I'm just a teen with an insane mind, running from the world. Or you could say that I'm running from my present life, to pause it like a movie, run away from the remote, and hit the resume button much later from now.
But even I know it's not that easy.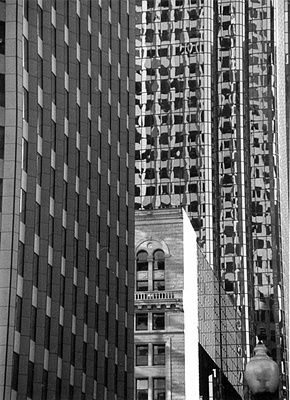 © Natalie D.,Marblehead, MA