We are coming for you...
January 6, 2015
Slender man is coming, run away, warn the village, grab your pitchforks and torches, come along, let's put an end to this…
Children clutch each other and freeze in fear, mothers call them in while the men grab their weapons and march their way down the lane, marching like soldiers, towards their doom…
One such child grips onto her father and begs him not to go, he will get eaten or be kidnapped by the evil slender man and then turned into a slave, he will get whipped to death or hung by his frightful tentacles…  Her imagination runs further into more severe and painful deaths, what have we done with the heads' of our child…  
The father turns round and grips her shoulders and whispers that he will be fine, don't worry. We will capture him and teach him a lesson so that he won't bother us again.
The girl nods her head but still tears climb down her face, she has heard about what happened to others, if they as so much stepped into the territory of the Slender Man, he would grab their necks with his vicious tentacles and choke you, your face will turn blue with desperation  but before you die, just a second before you die, he lets go and it seems that you are finally free but then he whips you until you're black and blue and you have blood flooding down your back, he then seizes you up with his tentacles and slowly seeps into your mind, we don't know how he does it, but finally he hangs you up (you will be glad you're dead), one of his tentacles hangs around you, like it's still choking you and he then  leaves you  high in the trees. That's what happened to my best friend Kayla's dad, found him dead.
But her father seems confidence they will capture him, I hope they do and I hope he comes back safe and sound.
They grab there pitchforks, their blades shining like a thousand jewels , torches lit with flames that climb their way into every crack and corner to burn all there is. They will use every bit of courage to stop the Slender Man, but nothing can defeat him…
The people are feeling good about this; they will finally catch the Slender Man.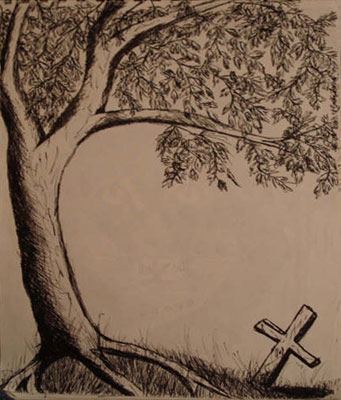 © Courtney K., Bethel Park, PA