From the Closet
November 30, 2016
A note slips out from underneath the door, into the little room lit by only one  lamp. A girl jumps off the bed and scurries over to the note. On it, it read; "she's coming." The little girl's eyes look up at the closet door.
            "Okay" she whispered.  As she ran over to her bed and hid the chocolates she had been eating under her pillow and jumped underneath the covers. Little whispers came from the closet. The girl came out of the covers and bolted to the door. She stared at it as if angered by the noise it held within it. She turned the knob slowly and opened it trying to avoid any squeaking. She stuck her head in and shushed it. Silence filled the room until the sound of her bedroom door creaking open broke it. She darted to her bed and jumped on it. Her mother walked in and smiled at her.
            "Who were you talking to?"
"No one. Why?"
            "No reason" responded her mother as she walked over and kissed her on the forehead goodnight and walked back out slowly closing the doors and turning off the light. The room slowly began to be consumed by the deep blackness of night. The closet door squeaked open and the whispers returned. They began to get closer to the girl.
            " really?...  Of course I do…  Where?...  Upstairs… How do I get there?... The roof…  Okay I won't tell…  I'll be quiet I promise…" Within the darkness the little girl's laughter filled the room as the window gradually began to open.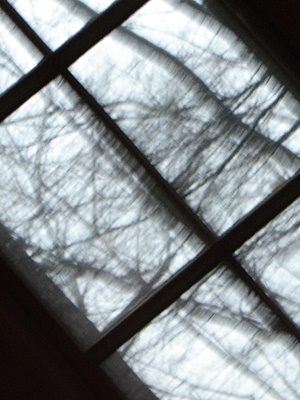 © Claire H., Boxford, MA