Photo Safari
November 5, 2017
It started off as a normal Sunday for Adam. He had finished all his schoolwork the day before, he now needed something to take his mind off tardigrades and microplankton. For Adam, Sunday was Photo Day, and so he ate breakfast, grabbed his Nikon and a pack of Jawbreakers, and swept out the door into the afternoon breeze.
His goal was rarely, if ever, set in stone. Most of the time, what he was looking for remained tantalizingly out of true knowledge. Some days he came home with many pictures, some days he came home with none at all.
After about two hours of Adam's photo safari, his meandering path took him by the Sutter House. It was an old mansion, built at the height of the opulent Roaring Twenties. It was a sad sight to see now. In the beginning of the Depression, the owner of the Sutter House had leaped to his death from the third story window, having lost everything just a few months before. Adam found it terribly sad, that someone should be so distraught as to defenestrate themselves. It was said that his ghost still haunted the house. The sinister appearance of the run-down building left little to the imagination.
Meow. A hairy brown cat strutted into view. Adam pulled out his camera, but the cat kept moving at the last second. It was an Abyssinian, its poise evocative of its ancient Egyptian ancestors. Mrrow! Before Adam knew it, he was standing inside the gaping doorway of the Sutter House. The shifting winds caused even greater shifts in shadow. Something moved in the corner of his eye.
"Who's there?" Adam called out. Ghosts and demons wailed in the intrapersonal depths of Adam's mind. He stood as if gorgonized.
Mrreow! The cat jumped up into a patch of sunlight, sitting majestically on a jutting board. It rubbed its head against his shoulder and purred. Adam gave a nervous laugh. "You're friendlier than you seem, aren't you?" Adam asked the cat as it ate up the attention. As soon as it had received its tribute of pets, the cat proved to be an excellent model.
Later that night, Adam slouched in front of his computer, going through photos. He had tried to capture the Sutter House's character in his photos, and he thought he had done quite a good job.
But wait. He had been alone in the house. So why was there a man jumping out of a window?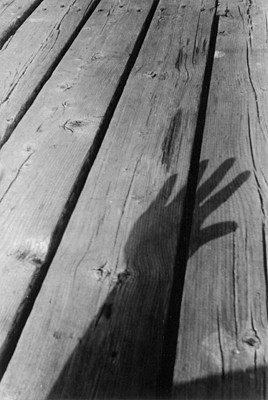 © Janet D., Marblehead, MA