The New Orleans Visit
January 12, 2018
Two months ago, I had a friend named Bella. Bella and I met just about 3 months ago. She moved in to the house next to mines and my parents invited her family over for dinner. We got to know each other so well that she could be my sister. Two weeks have past and we're both out of school, it's summer time. Bella and I decided to go to the carnival fair that opens up every year for a limited amount of time. It was about 112 degrees outside and that's normal for living in Arizona, at least Bella and I were prepared for the heat.
          We arrive to the carnival fair and we go for a couple of rides, meet new people, and play games to win some prizes. Now, it's dark...only 7:45 PM as I check my watch. Bella and I stop for food. We haven't eaten ever since the morning so we decided on getting corn dogs and strawberry ice cream. As we finished, we were too tired to get on rides and play games so it was time for us to walk around the carnival fair and see what we haven't tried out yet.
          After a couple of minutes of walking around, there were just closed tents that are about to open up. The tents were colored red and shadows of people preparing their tent and the pit of flames that is in the middle of the walkway. The pit was there because it's night now and people are sick and cold. There was one tent that was opened, the black and purple sign was "Voodoo...STORIES." The air around us was warm and as we walked into the tent, it smelled like incense. A woman sits in a chair, waiting....
          "Good evening you youngins. May I help you?" the woman says creepily.
          "Just looking around..what is this?" I ask.
          She breathes in heavily and then back out, "I tell yo stawies about yo past life and futah. I also help with all them emotions ya got towahds anybody and I help with black magic."
          She sounds like she came from the south or something by that she talks. I decided to keep the conversation going. Before I can even say anything, a man wearing all black besides his royal purple vest with black sunglasses on comes in.
          "You hun, have you went to go eat yet?" the man asks smoothly.
          "No suh, now leave! I have company." the woman snaps back.
          "Wanna come and visit Ma at the hospital in a bit?" he asks.
          "I'll think about it...now go!" she demands.
The man disappears in a heartbeat. Bella and I look at the lady very weirdly. We're both looking at her like she might do something very dangerous to us but then she introduces herself.
          "Excuse me fo' that man but hello. I am Marie Laveau. I am the queen of voodoo. Do ya need anything?"
          Marie has a strange smirk on her face then Bella and I looked at each other. I had a strange feeling being around Marie.
          "Oh um, no thank you. We have to get going. Have a goodnight ma'am." I say.
          Bella follows right after me as I rushed out of the tent. I felt so dizzy in that tent that it felt so good to be outside again. The carnival was now closing up so Bella and I decided to help clean up for the night but for some reason I still felt dizzy and had a strange feeling in my stomach. I look around and there...there she is...Marie...she stares blankly at Bella like she has something eye-catching on her.
          As we finished cleaning up a couple of tents, Marie is a couple feet away from us but she's still blankly staring at Bella. Marie hasn't even given me any eye contact and Bella has been quiet ever since we left Marie's tent. We finished cleaning up and I turn to Bella who still hasn't said a word. She has fear in her eyes like something terrible has happened to her. I finally asked Bella,
          "Are you okay?"
          "Uhh...yeah...nothing...woah…" she says weirdly.
          Once we've finished, we start heading back home. I felt so strange. Bella wasn't talking still and the smell of incense was following us home. The next day, Bella is at my house. She smells like incense and she's insanely happy. Today is the day we both find out we're going to New Orleans for a week. So we packed our bags and left our houses. As we took a plane to New Orleans, I sat next to Bella. She seems like she's back to normal but she kept giggling very strangely.
          We finally get to New Orleans and I'm already in love with the energy around me. It feels like I've found my place to be comfortable around. We get to our hotel and just put our luggages down. After we settled everything in, we left our hotels and visit my grandfather's grave. My mother told me he was born and raised in New Orleans until he died of cancer. He is buried in the Saint Louis Cemetery so we go there.
          We arrive to the cemetery and before we could even get to the gate, my mom leaves us to check in and she says,
          "Go inside and explore around. I'll catch up to you guys later."
          Bella and I opened the creaky gate and once we stepped foot onto the cemetery floors, a wind sends chills up my spine. The gate shuts behind us and there goes that feeling again...it's back. That strange feeling I had when Marie was following us around is. Bella goes quiet again and just stares blankly in front of her.
          "Bella..Bella..Bella!" I scream at her.
          She's still silent and she points to the tombstone in front of her. A white gray-ish tombstone with x's all over it, beads and underwear in front of it. Bella starts twitching and shaking so I grab her hand and told her to come with me and find my grandfather's tombstone.
          "Let go of me. You can go find your grandfather's tombstone on your own. Come back later or something…" she says softly and smoothly.
          I let go of her and left her. My mother was already at the tombstone and I ran to her and looked around. It's feels unreal to be here by my grandfather's tombstone. It's like he's just standing right next to me but he's not. I put my hands around my stomach because every minute, it's like the weird feeling just gets worse and worse. Silence is in the air and then a loud, high pitched scream comes out of nowhere. It rings in my ears.
          The feeling is getting worse, I feel like collapsing. The screaming sounded like Bella so my mother took my hand and started running back to the front gate where Bella was. We stop and I don't know what's even going on and my mother screams then runs to a body in front of her...it's Bella. Blood is everywhere and the feeling in my stomach goes away. A faint, creepy giggle crawls into my ears then it disappears. The laugh sounded just like the laugh Bella had when we were on the plane earlier.
          I scream, "No! No! No! I knew I shouldn't have left you alone! Ugh!"
          "Dang it! What happened here?" my mother asks angrily.
          "She told me to leave her here and I come back to this…" I say as I cry.
          My mother stands up, wipes herself off and grabs my arm. Leaving Bella's body there. We leave the cemetery and go back to the hotel. My mother just packs up her stuff and mines too. She hands me the plane ticket to go back to Arizona and says,
          "C'mon. We're leaving."
         
          "Why? Why now? We just got here!" I demanded.
          "Bella's life was taken by the queen of voodoo, Marie Laveau. Marie is dead but her spirit can do just anything. She put a curse of Bella because Mary is jealous of her. This happened with my mother when I was young. I knew that we shouldn't have came here. Now let's go, I don't want you or me to be the target." she says calmly.
          We get our suitcases and shut our hotel room's door. We leave and get to the airport. The airport is beautiful. There's lots of space and lots of light but it's cold in here. We get on the plane. Now I'm sitting by my mother and thoughts are getting through my head. Why Bella? What was Marie jealous about? Why couldn't we just stay in New Orleans longer? Who's holding the funeral for Bella? What will happen next? Who knows...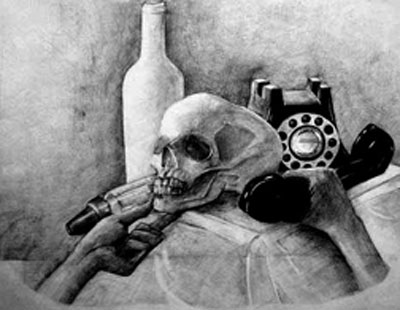 © Xiao H., Naperville, IL