HAVE WE BOARDED A BULLET TRAIN??
September 2, 2013
Murder. Gun violence. Drug addiction. Driving crashes. Molestation. Rape. Bullying. Those are some of the actions the teens of today are increasingly being recognized by. No more is there of the innocence...that simplicity, that discipline...nothing is left of that purity.

Are today's teens growing faster than they should?

"What is this life, if full of care; when you don't have time to stand and stare." This line very aptly describes the teens of today. The Y generation is now totally lost in the concrete jungle; trying to make their name in the global rat race. No longer do they read stories with morals; no longer do they hear inspirational stories from their elders. The teens of the 21st century are nothing but androids; dangerously devoid of moral and ready to do anything to achieve their dreams. and who knows what their dreams can turn out to be.

Today, everything meant for the teens is either related to love or heartbreak or violence. Novels, songs, videos, you name it, they have it. And not a single one of them prepares them for the world. You think, if this is what the teens are exposed to, will there be any simplicity or innocence in them? Heck, all they care now is gossip, explicit videos and songs and getting lovey-dovey. maybe this is not their fault for the creation of these things. But surely, it is their fault for getting influenced so easily.

Emotionally,in the present era, they are more disturbed than ever. They are no longer trusting their parents, not even themselves. They are easily manipulated. They are more inclined to lie, especially if they feel that the truth will hurt someone, and thus when the other party comes to know of the truth from some other source, they are more hurt than ever. They no longer have self-esteem. Today's teens also don't hesitate to control each other and show their might. This attitude is what has brought into fashion bullying, abusing, harassing and so on. Eventually, this disturbs the normal state of mind of the teens and they start searching for ways to compose themselves. That's when they stumble across drugs, violence, alcohol.

This is a major problem worldwide. Alcohol is nowadays available almost available everywhere, and at cheap price too, which provides easy access by the teens. Under the spell of alcohol, they sometimes commit horrendous crimes, which I'm sure I don't have to mention. Drugs too, are today's new fashion. From increased concentration while studying, to feeling intoxicating exhilaration, drugs are used for many purposes. And since the teens are not totally clear about the correct dose, they often OD, which initially brings about the macho feeling in boys and a wildness in the girls. Slowly, they get obsessed with those sensations; they get addicted to that drug. and as teens usually don't have enough money for buying drugs, they often borrow, beg and steal cash. They become hapless without their drugs. They become thin, aggressive, impassive and devoid of emotions. They start living in their own world and get detached from real life.

Under the spell of these venomous things, they forget that they re human and go on to commit inhumane violent acts, injuring themselves, their families and the society. They finally lose themselves.

Mind you, I'm not exaggerating it. This is truth, just not fully realized in some countries. And the anti-drug and anti-alcohol laws and campaigns and awareness programs and rehabilitation schemes are just not effective enough, because this is now too widespread a problem to be nipped in the bud. It is way too late for that.

No wonder we read so many such problems of the teens in the newspapers. No wonder that so many cases have come up where teens turn into hackers; access porn sites, send spam and such other cases. No wonder, today's kids know too much for their age; so much that they forget that they are in the last stage when they can enjoy their lives, create memorable moments, experience the childhood joys of their lives. At the same time, they don't know the things they should know in their teen age - the exposure to the brighter side of life. The teens of the present era don't know the fun their parents or grandparents had in their childhood; they have become completely self-centered- I, ME and MYSELF. This is their world.

Often the behaviors of kids in their teenage worries the parents and guardians; it's natural. After all, if you find your child taking drug, smoking or drinking alcohol, you'd be dead worried, and probably miss a heartbeat if hear your kid harassing someone or hacking. And if you don't take the most stringent actions, maybe that day will come, when the door knock, instead of signifying the excellence of your child, will signify the police coming to arrest your child. And none of this is a lie or exaggerated. It's just that some parents have experienced it, and some haven't.

Change is inevitable; the teens' mindset is changing, their attitude towards themselves and their lives is changing, their opinions of parents and the society is changing - but unfortunately, for the worse. What the planet needs is a group of upcoming leaders who will the torch bearers of the future and leaders of tomorrow. Our world doesn't need a generation of drug addicts, suicidal or impassive people, for they will only be a liability for the society.

This problem can't be solved completely; but he dangers can reduced to a great extent. How? By exposing the minds and hearts of these teens to the mindset of other bright and determined TEENS. We may hear of teen fights and all, but in the long run, only a teen can understand a teen. This intermingling of minds and hearts can neutralize the extreme opinions of the teens as well as boost their self esteem. Only this can change the teens of today and the global citizens of tomorrow. And only this can change the future of this world and its future citizens.

I am a teen too. I have many weaknesses. But no matter who tells what, deep inside, I'll always be proud of myself. This is what I want to tell my friends all over the world. The past can't be changed; nor the present. But the pen of the future is in your hands-draw the ideal fulfillment of your dreams. Let not the childhood times be a reason for sorrow or regret. Let not your teenage be your weakness. And it's never too late to turn over a new a leaf. Maybe a lot has happened in your life, and you just cant handle it. But always remember, by self harming and committing suicide is not the solution. This may momentarily divert you from your violent emotions; but the deeper you get stuck in this mire of inconsequential delusions and fatal illusions, the farther you'll be from the light of hope. You may not create a new beginning...but with the right views and a well-established willpower, you can and will create a happy and better ending...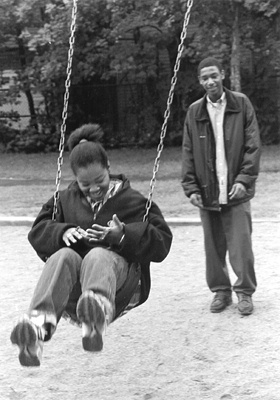 © Yaniris M., Boston, MA