Repenting
April 29, 2012
I am the innocent bystander, but there really is no innocence in my actions. I am watching three girls with glossy hair, watchful, uncertain eyes, and straight teeth tease a girl with big, dorky glasses and braces, highlighting every imperfection that she wants to conceal. There is no innocence in laughing along with them, giving them the confidence to continue their torments. There is no innocence in doing nothing.

Now I see a large boy, looking more like a man than a boy with dark hair and a deliberate five o-clock shadow, stalking down the crowded hallway with a malicious glint in his eyes. He targets a boy with bright red hair about half his size and pushes his books to the ground in the middle of the bustling hallway. He laughs as the smaller boy bends down to pick them up, trying unsuccessfully to evade the countless legs walking through him. Then as the red-haired boy reaches for the last notebook, the man kicks it away from him, laughing obnoxiously loudly as he strides purposefully away. I watch but do nothing. I do nothing because I am afraid.

"Tomorrow," I tell myself under my breath, "tomorrow I will do something." But tomorrow comes and nothing happens. I am still too afraid, hiding in the corner as I watch the endless affliction happening all around me. People like me are the reason bullies can get away with their vicious abuse.
The next day comes, and once the three girls strut away from the lone girl after sufficiently degrading her self-confidence and self-esteem, I walk cautiously over to her, and I tell her I like her glasses. I put on a smile and hope that she sees that it is genuine, that I am not another bully. I hope she does not realize that I am an enabler. She does not, and she returns my smile, grateful to have someone to share one with.

As I walk away, the large boy comes strolling toward the small red-haired one. I feel my courage strengthening, and I pull the smaller boy aside, starting a conversation with him. He is no longer alone; he has a friend, someone to support him. The huge boy is forced to walk away dejectedly. Now I smile; I am no longer a bystander.
By saving these victims, I hope I can save the countless bystanders, the enablers. The little gestures, the smiles, and the conversations are just the beginning. It requires the bystanders to abandon their passive roles and become involved, to promote a sense of community instead of forsaking their peers. This is what it takes to stop the bullying, to end the harassment, the teasing, and the insults. These actions add up, and suddenly we are not so alone.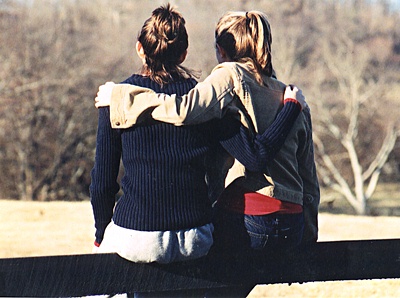 © Jaime M., Wichita Falls, TX