A Letter To Humanity
September 7, 2013
A letter to humanity:
all the troubles of this life
are nothing if we do not fight
against the storm as it comes towards us.
We all have a battle
and a war to live through
and we don't have a choice
I'm sorry to break it to you,
there's no
choosing your battles
in real life.

we race towards the battle front
with muskets in our hands
but cower away as we see the face of the man
we rush to kill.
this is not the battle
you were chosen for.
you were not meant to kill your
friend-become-foe.
you were meant to
rise above the hate
and find common ground
to make peace.
but peace does not come easy
in a world full of war.

Peace doesn't mean:
friendship.
and it doesn't mean:
alliance
peace simply means
not at war.

Peace is,
I'll admit,
an optimists dream.
our human flaws,
will never allow for it
but that doesn't mean that
whenever an issue arises
that we need to put on our disguises
and invade the enemy
with our nuclear weapons
our hiroshima proven nuclear weapons
our nagasaki proven nuclear weapons.
you can't fight war
with war
when all the war brings
is hatred
and destruction.

So keep your tongues tied
and swallow your bullets
because I have had enough of your hate.
of your machine gun insults
and your loose cannon laughs behind my back
because I'm different.

Tell me something,
do you feel like you fit in
when you make fun of me
because I'm brave enough to stand out from the crowd
because I'm brave enough
not to stand
in your perfect lines
like clones of one another,
you all think the same
and you all gang up on me
and my gang?
yeah,
thats right,
theres more like me.

Do not expect me to sink to your level
if you realize you're different,
come join me.
we can destroy all the nuclear bombs in our hearts
and heal all the wounds you've caused.

Every aspect of life
is a war.
You just have to brave enough to fight against it.
to take the higher road and help others find their way onto it.
finding peace for yourself isn't good enough
you must find it for others.
We don't have to be friends,
we don't have to be in alliance,
we just need to stop the violence.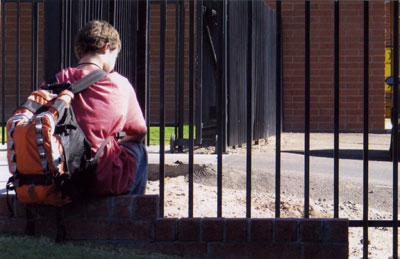 © Molly L., Phoenix, AZ