Learning to Help Others
March 5, 2009
My grandma is the secretary at my church. Since she started working there, she has always been in charge of things like food drives, clothing drives and gift basket drives for the less fortunate. I used to think helping at these events was boring and a waste of my playtime, but one time my grandma was short on help and begged my mom and I to come help with the food drive. I really didn't want to go, but my mom agreed to help and there was no one else to watch me.

When we arrived, there were about five other people there to help sort
food. They had already sorted stuff into groups, like canned soup and vegetables, and cleaning products. We had to double check that none of the food was spoiled or rotten. I was already bored and thought that I shouldn't have to be there because I had helped carry the food donations from the church the prior weeks.

My grandma called me over and asked if I could help her with something, so I followed her into her office at the end of the hallway connecting the small social hall, where all the food was, and the classrooms for catechism classes. She showed me this stack of green and white papers and asked if I could help her make sure all the family numbers were in order. I asked her why each family had a number. She explained to me that each family would be coming to pick up their food, and we would need to know which food basket went to which family since they were packed according to specific needs. I understood that part, but what I didn't understand was why these families were coming to pick up food in the first place. I asked my grandma, and she said that it was because they needed help because they couldn't afford to live in a house, pay bills, or buy food for their kids. She explained that during holidays, our church would collect food and other necessities and then sort through it and distribute it among all the families within our church boundaries that had asked for help paying for food.

Now that I understood what was going on, I felt really bad about how I had acted. To make up for it, I was determined to help as best as I could. I stayed and got boxes for the food to go in and placed them around the room for each family. We then had to determine which families needed more food based on number of people in the family. When we finished doing that, I went around and wrote the family number on all the packed boxes with a big black marker.

I felt so much better after helping that day that my mom and I went back the next day to help with the deliveries. When the people were coming in and giving their family's last name, we would look up what their family number, and I would go help put their food boxes on a cart and wheel the food to the family. You should have seen the look of pure thankfulness on their faces as we told them that all that food was for their family to have over the Christmas holiday. Some people were so thankful that they started hugging us, and some of them were even crying.
It made me feel so good to know that I helped cause these people to be so happy and have a good Christmas. Every year after that I helped with the food drives for Christmas, Thanksgiving, and the Christmas Gift Drive for the kids whose parents could not afford to by them Christmas presents. Ever since then I never ever thought that helping out at the church was a waste of time, and now I even think it is fun!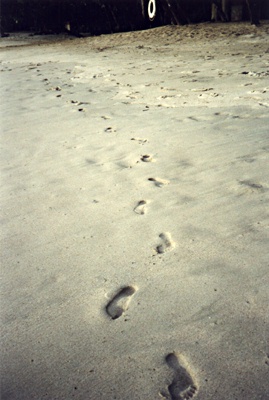 © April W., Rogersville, MO