A Spring of Hope
MAG
I would never have imagined that a vacation in South Africa would change my life, but my visit to a rural South African school, Beretta Primary, stuck with me. The school had over 1,200 students, from preschool to seventh grade, all living in poverty. It lacked desks, school supplies, and even proper floors. However, the most shocking problem was the lack of running water. Rivers and lakes are far from Beretta Primary and its town, Acornhoek, suffers from drought, AIDS, unemployment, and a rapidly growing number of orphans.

Most inhabitants live without water, so a school without it is sadly a common sight. Since my visit, I raised over $10,000 from my school and private donations. As a result, a well was installed at the school, with the help of my South African friends Brenden and Sherri. I received pictures of the children running to the tank, filling buckets, and pouring water onto their garden that now grows year-round. The bathrooms also have water for the children to wash their hands. For the first time, the students and teachers can have a drink of water at school.

Although I knew this was a great accomplishment, many other schools in Acornhoek and other poverty-stricken areas needed help. I had to get others involved and raise awareness. Then, an incredible idea struck me. What if we took other teens with us to South Africa so they too could experience being with these children and helping out? Six months later, The Beretta Project was under way. I hopped on a plane with some of my friends, my mother, and my video teacher. We would film a documentary on Beretta and the impact of water on the school. This would be the greatest community service project I could have ever imagined!

I told the others that what they would see in South Africa would be unlike anything they had ever witnessed, and that truth certainly hit them the first day we visited Beretta. At that point, we had already been in South Africa for a few days and witnessed the glamorous life in affluent Sandton City, Johannesburg. So traveling to Acornhoek was a real eye-opener. I remembered how neglected rural sections of South Africa really are.

We drove for several miles on a rock path through some of the poorest areas of the country to reach Beretta. I recalled how Beretta once looked: a desiccated land with few trees, dying crops, and an empty water tank. Those memories were completely blown away when I saw the school for the first time in two years. Gardens flourished around the school, trees bloomed between buildings, and tiny carrot sprouts spelled out "Beretta." So much life was evident there even during the winter, normally the time with the least rain and little water!

The boys grabbed their cameras as a massive group of children emerged from a far field. Hundreds of smiling faces greeted us as we moved through the school grounds. The children had prepared a celebration for us. One little girl got up and recited a poem about the importance of water. After a round of applause, a choir emerged from the crowd. I realized they were singing my name! My mother's too! They thanked us for a job well done. The boys in the choir started dancing. My mother and I began to cry when we were asked to go to the front and introduce ourselves. With the help of a teacher's translation, I told the children that I hoped I had touched their lives as much as they had touched mine.

After passing out 1,200 cupcakes, candy bars, and juice boxes purchased with money donated to Beretta from my sweet sixteen party, we started a game of baseball. I knew that my friends really connected with the kids that day; this project is a passion for them now too. However, on the other side of the children's amazing smiles are lives of poverty and strife. We went to see the hardship firsthand by visiting the poorest homes in the Acornhoek area and delivering supplies like blankets, cabbage, non-perishable milk, and soap. The homes we visited, usually closet-sized and constructed of mud and concrete, did not have access to water or fresh food. The market was miles away, and water was a trek to a small government pump that only occasionally churned up water.

I met an eight-year-old girl whose parents had died when she was only a toddler, and who had lost her grandmother (her only guardian) a week before we arrived. She had not eaten since her grandmother's death. Another girl, just 16, cared for eight children, all orphans. I shudder to think how she might have gone about getting food for her family if we had not brought supplies.

We visited one of those government-installed pumps. People walked miles with wheelbarrows loaded with containers to wait their turn. This was

not a suitable source of water for so many people. Hundreds of children do not have water or good meals at home.

Building a well at Beretta proved to be far more life-sustaining and essential than I ever imagined. Now children who rarely had water were able to use the water at school, and while most crops die during the drought, Beretta's gardens grew year-round.

We discovered there are dozens of other schools in the area. Many need chairs, desks, chalkboards, and school supplies, but most of all, water. Our work in Africa is not done.

I am dedicating my life to helping children in Acornhoek, and eventually throughout Africa. The Beretta Project is far more than a summer community service project, it is an ongoing commitment to changing conditions at schools in South Africa.

We decided to start the foundation A Spring of Hope, entirely run by its teenage founders, which will build wells at rural schools in South Africa. Our website, aspringofhope.org, offers information about donating and doing your part. By bringing aid to one school, we are helping thousands of children and their families. With the public's help, we can do so much to give these children futures and ultimately end the cycle of poverty in South Africa.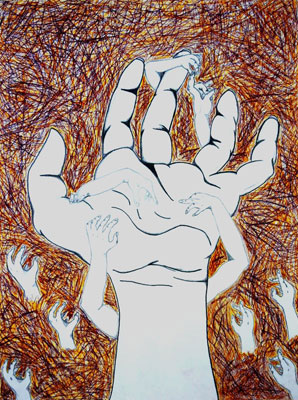 © Anonymous