Helping Humanity
MAG
If you are the kind of person who enjoys helping othersand your community, Habitat for Humanity is for you. This is a nonprofitorganization that builds houses for people with low incomes. Projects areorganized by local branches that decide on locations and dates to build.Recently, my father participated in a house-building in Atlanta and got meinvolved, too.

Thinking it was going to be a boring day of hard labor, Iarrived at eight o'clock on a Saturday morning. Since I usually sleep until noonon Saturdays, I was quite tired. I met the other volunteers and was giveninstructions by the group leader. The frame of the house was already built, so wewould work on siding and roofing. When asked who would like to work on the roof,my hand shot up. I put on a work belt, grabbed some nails and a hammer andclimbed the ladder.

Once I was up, I talked with one of the staff abouthow exactly I was going to do this. Since I had never roofed before, I was alittle confused. She explained the different sizes of shingles and where to placethe nails. I tried a couple of practice shingles, and then began working. I wassoon joined by my father and another teen. I was surprised at how efficiently weworked together. I was very focused on what we were doing, and inspired to buildthat house and make a family's dream come true.

Soon it was noon, andwe climbed down for lunch. I talked with people and found they had someinteresting stories to share. For many, this was the first time they hadparticipated in any activity like this. We talked about how our day had gone sofar and what we were trying to achieve. Everyone had individual goals, but as agroup, we agreed it was because we wanted to make a difference.

Afterlunch the clouds cleared and the sun came out. The temperature climbed and manyon the roof began to feel exhausted from the hard work and heat. Even though wewere all getting tired, we kept working. I made sure to drink plenty of water soI didn't pass out and roll off the roof. The hours grew longer and harder as wegot closer to finishing. Then, with one magical swing of the hammer, we weredone. I climbed down and went into the yard to look at the house. At that point,I felt great, knowing I had helped bring a family one step closer to having ahouse. Dirty and tired, I climbed into my dad's car and we headed home. I wavedto all the people I had met that day and drove off. It was a great day.

Since 1976, Habitat has built more than 100,000 houses in over 60 countries. Ifyou would like to participate in a service project but don't know what to do, Iencourage you to give Habitat for Humanity a try. I won't forget that day for along time because of the people I met and what I learned. It really gives you agood feeling to know you made a difference.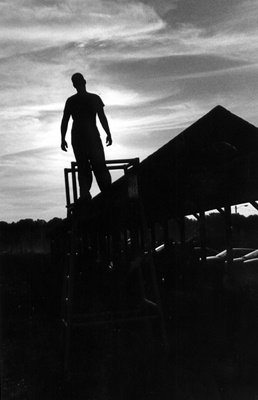 © Anonymous