The Blowing Rocks
MAG
The sun was beating hard, bugs were oscillating here and there, I was doing some of the hardest work I had ever done, and there was nowhere else I'd rather be. For my February vacation, I went with 17 other students to Jupiter Island, Florida, to help preserve the natural habitat of sea turtles.

On that first night, we spent hours finding the preserve where we would work and figuring out how to put up a tent. Then the manager of the preserve talked to us about what we would be doing and watching out for, like bears, fire ants, poisonous spiders, snakes, stinging jellyfish, and hungry raccoons. At that moment I decided I should get over my fear of bumblebees and fast! After that, we headed off to a trailer park to take showers. Seven girls, two showers, cold water, and bugs everywhere – you use your imagination.

Two days later, I was getting used to the work and loving it. We had dug 300 holes, planted hundreds of plants, set up an irrigation system, and mulched everything in sight. It was very hard work but the most rewarding project I have ever done. I have never felt so much pride since these tasks were supposed to take us a week. Because we had worked so hard and it was going to be in the 30s, we got a special treat: sleep indoors at the preserve.

That night we went for a walk on the beach. The preserve is called The Blowing Rocks, and I never understood what that meant – until that night. My new friends and I playfully ran down the trail leading to the beach. As soon as we got to the top of the hill where the trail ended, silence fell over us. For a moment we stood in total awe. It was beautiful. There were huge rocks lining the ocean and the waves crashing over the rocks gave the appearance of "blowing rocks." At that moment, I felt as though time had stopped and all I could see was the ocean. That image of beauty will stay with me forever. We were told that that beach was a nesting area for sea turtles. From that point on, I worked harder and faster so I could preserve this beautiful place for these majestic creatures.

During my week-long stay, I learned that when you work together as a group and as friends, you truly can make a difference in this changing and crumbling Earth. Animals and people are losing their homes every day because of our lack of concern, knowledge, and understanding. There are so many things we can change today if we just take the time to look around and care. We are slowly destroying our world and don't even realize it. It's the littlest things that can make the biggest difference. We have to be willing to take the steps to protect this place we call home, speak for those who cannot speak for themselves, and provide a safe environment for all to live in.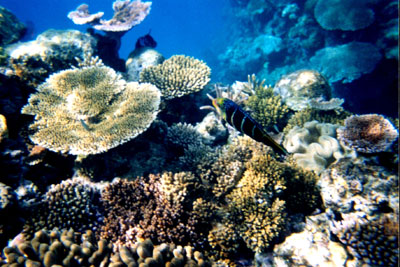 © Anonymous