Why I Speak Like a Man
January 18, 2017
"Why I Speak Like a Man," by Anneke R. was a rather enlightening piece for me. The writer explained that through her study of the German language, she realized something: women are always sorry. They are always apologizing for everything even when something wasn't their fault. As a result, we begin to expect women to say sorry more. Of course, it is necessary at times to apologize, Anneke made me see the truth.

It wasn't until I read this piece that I saw. Women do say sorry way more than men. Not only is it in real life, this trend has leaked this way into stories - that one story where the main character bumps into someone. If they were a man, he would typically reply with a, "Watch where you're going!" or something of the sorts. If they were a woman, however, we can already imagine her exclaiming a, "I'm so sorry!" and perhaps even help the character pick up anything they dropped.

Women don't have to say sorry for every single thing they've done. Apologies aren't necessary every few minutes. Doing this only adds to popular belief that women are polite, weak, and less dangerous. I'd like to thank Anneke R. for making realize this. Perhaps I should adopt a more direct way of speaking.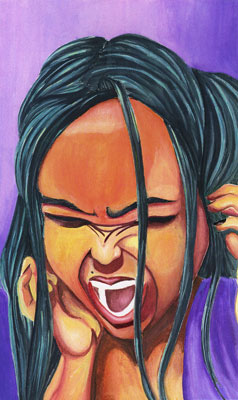 © Kriztille J., Briarwood, NY