From the Back
March 2, 2017
Simple, short, and sweet, From the Back by Bekah H. conveyed the message that we were the same. In the midst of a school environment where people tend to hang out with people with similar interests, it's important to keep in mind that beneath the makeup or tough attitude, we're all people. Bekah sets the scene with the narrator looking at the back of a popular jock until the back of an unpopular student blocks the view. Their descriptions matched, and they're almost mistaken as the same person.

As a student, I saw the classic athletic kid and the weird quiet outcast as polar opposites. School turned out to be just like the movies. The athletes wore jerseys, and the nerds wear glasses. Of course, I kept an open mind, quietly hoping to be acquainted with at least one jock. I grew up though, and decided that some people simply weren't meant to get along.

From the Back renewed my hope. Someday, I will have a proper conversation with one of the popular kids because ultimately, the popular and the unpopular are in the same boat. They shouldn't be defined by labels and reputation. I would like to commend Bekah for imparting all this within a couple of paragraphs.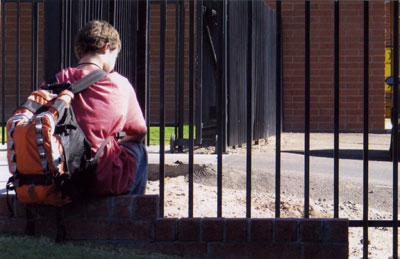 © Molly L., Phoenix, AZ