Tall, Dark, and Nappy
MAG
June 11, 2009
"Ugh, she's so ugly. She's as black as the street," my mother commented with disdain. The woman she was talking about was Alek Wek, a Sudanese model on "The Tyra Banks Show." My mother was right: Alek was very dark. But where my mother saw ugliness, I saw beauty.

Seated side by side, Alek and Tyra epitomized the contrast between mainstream American beauty and black African beauty. Alek's hair reached the nape of her neck, and it was jelled down flat. Tyra had a long blonde weave with bangs and tracks down to her belly button. Alek had on dark chocolate makeup that accentuated her strong, high cheekbones, and the muscles in her arms were chiseled and firm. Tyra was wearing green contacts, pink blush, and peach lipgloss that made her look like a Barbie doll.

At that moment, I saw Tyra Banks, one of the world's greatest supermodels, as artificial and ugly. Instead I stared at the woman next to her. Alek Wek, who could have walked off my television onto the New Haven streets without changing a thing, was the essence of beauty.

The African-American community has always been divided. This division is based on the same hierarchy that once separated house slaves from field slaves: skin tone. Two hundred years ago, blacks with fair skin, light eyes, and straight hair were seen as more beautiful than those with chocolate skin, black eyes, and nappy hair. Though our culture has changed, the mind set remains. What's worse is that now it's self-inflicted.

All my life I was taught that light is right. I can remember my mother putting harsh chemicals in my hair to straighten it. I remember my grandmother pouring bleach in her bath water, even though her caramel skin never got any lighter. I remember my mom telling my sister not to date ­anyone darker than herself so that her grandchildren wouldn't be dark. Everything that happened to me, everything I saw, everything I heard, led me to believe that dark was ugly.

The image of Alek sitting next to Tyra contradicted all the messages I had received during my childhood. I became enraged, offended that my own race would raise its daughters to believe that beauty is conditional upon skin color and hair texture, even at the expense of their pride and self-worth. I tried to explain this to my mother, saying that I find beauty to be not just a skin-deep feature but a personality trait as well. That quality, the ability to overcome what others perceive as ugliness and make them see the beauty in it, was what made Alek a model to me. She sat on stage – as dark as she was – and embodied beauty with her self-confidence and poise.

I thought of my three-year-old niece and how I never wanted her to doubt her beauty or potential because of the texture of her hair. What Alek had been for me, I wanted to be for her.

So I cut my hair and stopped treating it with chemicals. I grew an afro, and I flaunted my new look as an example of what a beautiful, nappy-headed young black woman looks like.

I've realized that dark is not synonymous with ugly, despite those who tell me I was prettier with straight hair. I no longer need Tyra's light skin and long weave on my television screen for self-validation. I know I am beautiful. And even though I'm not completely over my early misconceptions, I am in a period of evolution. I'm learning the value of looking and feeling beautiful to myself, rather than to society.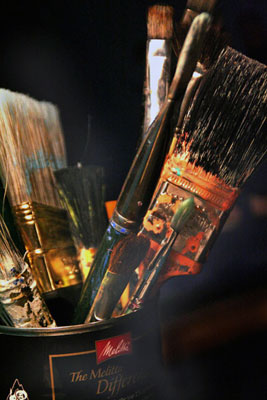 © Marina L., Orlando, FL