We're all the Same
October 8, 2009
In many ways I'm like what people call the average American teenager; I have an iPod, I go to high school, I hang out with friends, I go out to movies, I have a cell phone, and I love music. I have my own hobbies just like everyone else in the world; I play four musical instruments, I love learning languages, I love writing and reading, and I'm a spring board diver. My family has their very own history because they haven't always lived in America like most everyone in America except for the Native Americans of course.

I'm unique in yet another way though. Every Sabbath I light candles and go to synagogue, every Yom Kippur I fast, and every Passover I eat unleavened bread. Yes I am Jewish. I am part of one of the most hated races on Earth; I am part of a race that people have been trying to wipe out since the beginning of time. I am like Middle Eastern immigrants in the U.S. in one way, I cannot openly say what religion and race I belong to without people stereotyping me and hurting me both verbally and physically. I go to a school that claims to be accepting and forgiving, I go to a Catholic school. I go to school and I get called nasty names, I get jokes about my religion strewn about in front of me, and I get offensive signs put on my locker. I am like every other teenager in America on the outside and so long as no one knows about the religion I belong to no one seems to think of me any differently than any other teenager, but the second that people know I'm Jewish my life turns upside down. I'm a fairly patient and forgiving person but I'm not going to lie and say that the things people say don't hurt me. They do.

The reason why I wrote this is to hopefully shed some light upon the subject of prejudice. I have done nothing to deserve the treatment I get from people simply because I'm Jewish. There are hundreds of kids and teenagers in America just like me, they have unique talents and are very special but they aren't seen for their talents they're seen for being a Jew. Lots of kids and teenagers like me are stereotyped every day and for no good reason at all. Lots of kids and teenagers don't want to go to school because they're afraid of tomorrow. Just try and imagine if you had to live with signs on your locker that read things like: "You killed Jesus!", "You're going to hell because you don't believe in Jesus!", and "Stupid Jew go to hell!" Not every black person likes watermelon, not every Jew has big curly hair and brown eyes, not every Middle Eastern person is a terrorist, and not every Asian is super-smart in math. So next time you see a minority don't stereotype simply smile and say hello. We're not different from anyone else just because of our race or religion; we're not different from you we're all just the same.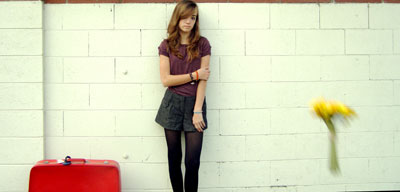 © Austin K., Studio City, CA