The Inner Life of the Nerd
MAG
August 2, 2010
My name is Sarah, and I am a nerd. I don't know when it happened, but sometime between my boobs growing lopsided, my skin running rampant with acne, and my hair going limp one day and never recovering, I decided that the scent of new books turned me on more than guys' cologne. And I guess one day, mathematical equations and calculators just started to be appealing. So here I am, a nerd.

Being a nerd's not all bad. You don't have to worry about which party to go to on Friday night 'cause you're not going to any of them. It doesn't take long to get ready in the morning 'cause there's nobody to impress. And, your future is basically laid out – college, cubical job where you prod at computer chips, and maybe a nerd husband if you're really lucky. Oh, and one more thing – you don't have to worry about pesky high school drama 'cause you don't have anyone to experience it with.

Okay, so maybe that doesn't sound great, but it's my life and it's what I know. The truth is, it won't change. I mean, think about it: if I weren't the nerd, who would be? The cheerleader? Please. The jock? Not likely. The emos? Ha. So, this life has already been chosen for me; it's predetermined and there's no exit sign. But I have always wondered what it would be like if fate had offered an alternative.

High school for me is like being in a glass bowl, actually a foggy glass bowl. The only things I see clearly are chalkboards and teachers. Everything else is hazy. I can make out the shapes of other students as they trudge through the halls, but I can never quite make sense of them. There is the blonde sucking her boyfriend's face. Everyone knows what she did last weekend. I want that. Not the boyfriend, the attention, or the hair – I want her confidence.

Then there's the Asian girl. Although she's bright, she's not a nerd. Being intelligent makes her well known and well liked. People know her parents would disown her if she got an A minus. She's well put together, hair tight and laces bowed neatly. The teachers adore her and no matter how much I study, I'll never know as much as she does. She's pretty much a shoe-in for any Ivy League school, and her parents are depending on that full-ride scholarship. I want that too. No, not the full ride or the smarts, but her poise. Her ability to be smart but look good doing it.

The emo artsy girl inspires me. She dresses in tutus and spiked necklaces. Nobody knows her real name, but they definitely know her. She doodles anime characters and song lyrics on her notebooks. Her back pack displays key chains and tattered ribbons. She's always with that boy and two other artsy emos. I want that. Not the key chains or the emo clan, but her creativity and dedication to her passion.

Then there's my favorite: the Converse girl. Her androgynous wardrobe gives her appeal to both sexes. The guys accept her as one of their own, and the girls fuss over how her shiny hair can look so good in a baseball cap. She drinks coffee out of a silver mug and has posters of Batman in her locker. She's a child at heart and a true chameleon, the poster child of laid back. I want that. Not the Converse, but her attitude. She doesn't care what tomorrow holds, because today's a good day anyway.

The only thing is, I'm not the confident blonde, the poised Asian girl, the creative emo, or the laidback Converse girl. I'm the nerd. I wear ill-fitting jeans and stained T-shirts. I eat lunch in the cafeteria, and I study for fun. But you know what? I'm okay with that. Because being a nerd means being myself. And that's what I want – to simply be me.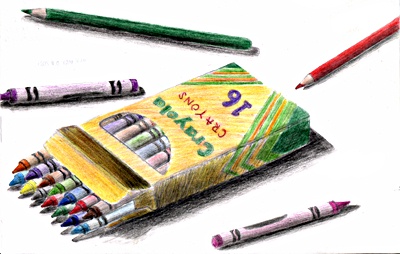 © Anonymous