If Not for Him ...
MAG
Life has lots of ups and downs but mine has had a lot of downs. My father had a split personality, with a good side and a bad side. Eventually the bad side took over. He was physically, mentally, emotionally and verbally abusive. When I was little, he did and said horrible things to my mom, brother and me. I can remember it all as though it were yesterday. My momma was very afraid of him. He told her if she ever left him, he would kill her. He truly believed in "Till death do us part."

One day my mom got tired of the abuse so we went to my uncle's house. A few days passed and my dad went to a nearby town to live with relatives (after he did a lot of damage to our home.) My mom, brother and I went back to our house. During the next few weeks, my dad kept calling to say he loved us and was sorry for everything. He was our father, regardless, and my brother and I missed him. He wanted us to come stay with him for a few weeks, but we wouldn't go without my mom. So we went there for a while.

I thought everything was fine, but I didn't know that he put a knife to my mom's throat and told her if she didn't take him back, he would kill me and my brother, make her watch, kill her, and then kill himself. My mom was so scared that she obeyed.

So they went home while I stayed a bit longer. Then I got a phone call from my dad. He was crying, telling me that my mom and brother had lied. Then I discovered that my brother refused to stay in the same house with him, and Mom had said she'd called the detention center to take him. My mom had secretly told my brother to go with her and so they walked to the neighbors and called the police, telling them what my dad had done. The police had to restrain my brother from attacking my dad. So the police came and got my dad.

Meanwhile, I was trying to figure out whose story was true - Mom's or Dad's. I believed my mom because I knew how my dad could be. My brother was put in rehab because he had gotten into drugs real bad. So my mom came and got me. We knew my dad was coming back to kill us as he had promised. We were scared because we knew when he found out my brother was gone, he'd come since my brother was the only thing protecting us. My mom and I got a male family friend to come and stay with us.

One day my mom came home with the news we had been dreading: my dad had been released. My mom, friend and I sat waiting, watching; we were all terrified. There was a shotgun in the corner but we all prayed it wouldn't be touched. Finally, we couldn't stay awake any longer.

My mom and I went to sleep in my bed. Our friend fell asleep on the couch. Around 1:30 a.m., our friend came into my room and said, "He's here." He'd heard someone trying to get in the window, and when he looked up, his eyes had met my father's. He said it was like looking at the devil.

We got up and stood in my bedroom door. My friend had the gun in his hand. We could hear my dad saying, "I know y'all are in there, baby. I don't want to hurt you. You can have the kids, I just want to talk." We said nothing. The doorknob rattled. Then my mom told me to get between the closet and the bed.

As I remember it, the door jerked open and I heard a gun shot. My mom and friend were crying. My friend went into shock. My mom slowly went to the body and turned the lights on. I remember my father lying there with blood everywhere. She didn't want us to see, but we had to go out the door where the body was. I ran through my father's blood with bare feet. I remember it so clearly. We ran to the neighbors and beat on the door until they awoke.

We called 911 at 1:45 a.m. on July 15, 2000. My friend still had the gun in his hand. The police pronounced my dad dead and investigated the scene. My friend was arrested and charged with murder. That's when what had just happened hit me.

When my friend appeared in court, Mom and I were there too in case we needed to testify on his behalf. The investigator got on the stand and said he had evidence that the shooting was self-defense. My father had been banned from our home and wasn't supposed to come within so many feet of my mom. The investigator took out an envelope which contained two ropes, a weed eater wire and a pocketknife. My dad had intended to strangle us. My mother and I gasped in shock at what could have happened.

Our friend was found not guilty as a result of self-defense. I am very grateful to be alive. I am also thankful God sent that beautiful angel, our friend, to watch over us. I would not be here today if he hadn't been willing to stay with us. What matters to me is just being in this world, being alive.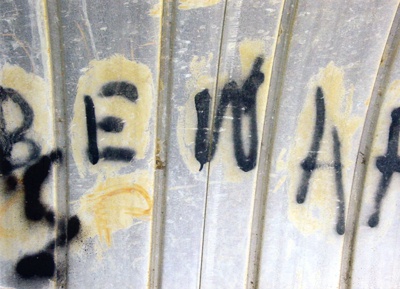 © Anonymous