What I'm Here For
August 9, 2010
Recently while I was at Girl Scout camp, a group of us were walking around camp with a counselor, re-painting posts and gateways for a community service project. It was a while to our next gate, and we didn't know what to talk about. Then somebody asked--I'm not sure who--what they thought the meaning of life was. Jokingly, my friend and I replied, "42," but then I got serious as I thought about it. Sometimes I wonder--what AM I here for? But I knew the answer.

"I think that I'm here to help people." I said. "You know, like community service. That's why I want to be a teacher, so I can help kids."

"Well, I don't know what the meaning of my life or life in general is." A girl said casually, swinging the bucket full of paintbrushes. "But it might have something to do with….I dunno, having a good time?"

"I think I'm here to live the moment." My counselor contributed. "Y'know, live every day to the fullest."

An older girl, usually quiet, said, "You won't really know 'til it's over, will you?"

That's deep. I thought. This was coming from a girl who wanted to be doctor, who wanted to hold a beating heart before she died, who wouldn't mind dying at the age of twenty-three. She was right, though. But isn't it important to know what you should do before you die so that you CAN live life to the fullest? All of us were right, in a way.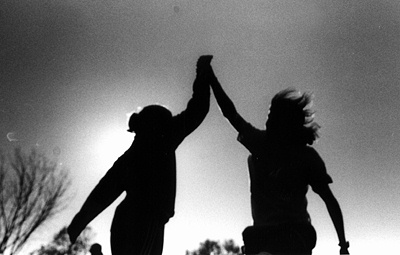 © April P., Marblehead, MA