Girl Stereotypes in Society and Reality
November 3, 2010
What do you think of when you imagine the "perfect" girl? Most people imagine blonde or brunette and they have blue or sometimes green eyes. They always have long hair, and big boobs. They are always super skinny and not too tall, but not too short. Now, these are what girls and boys look at when they imagine the perfect girl. I mean, who imagines an overweight 300 pound female, with grey eyes, and stringy, ugly, long, oily hair? But what woman looks like the "perfect" image? Girls look almost nothing like that. Some are skinnier and some are bigger. Most people weigh around 130-150 pounds in High School, and have they all different hair styles and types. Why should women look like most guys want them to look like? Girls should dress for themselves and wear what makes them feel beautiful. Girls shouldn't dress for boy because if they did then what is the point of wearing clothes? Boys are full of crazy hormones at this age.

Stereotypes make high school girls split into two categories: The nerds with glasses and braces, and the popular girls with perfect hair and body. Most television shows do this, and if you think about it, more shows do it than you realized. For example the music video "You belong with me" by Taylor Swift features a nerdy girl crushing on this boy and his girl friend is a cheerleader. This takes the usual twist and the nerd gets the boy, but did you see any other social class in it? How about Drake and Josh, you saw the nerds like Josh, who was portrayed as overweight and nerdy. Then you have Drake who was portrayed as the stupid, hot, girl magnet. That example was with boys because girls aren't the only people who fall under that stereotype.

Girls are taught very early to follow stereotypes. What dolls did girls play with? They all played with Barbie's, which are skinny blond girls that all looked the same. Some girls played with Bratz, they accepted color into their dolls by having a lead African American doll but they had big boobs, and big lips, not to mention they are super skinny. Parents read to us Cinderella, Snow White and Sleeping Beauty; they all were helpless at one point. Cinderella was treated badly by her family, Snow White lived alone and did all the chores and cooking, and Sleeping Beauty was just helpless gullible. But in the end their prince charming came to them and saved them, teaching little girls that girls are helpless and need a man to sweep them off their feet.

Later in teenage years you are shown that a baby makes a family complete if you have a husband. You learn that not having a husband is bad, and love will find you. You also are taught that men make all the money with their jobs and women stay home and take care of the family. Girls are only here to feed, cook, and clean. None of that is true. You do not need a husband or a baby. Love may not always just come to you and you need to look out for your own interest and sake. You need to prepare for the future and have a steady job; Women are capable of anything they set their minds to. Our society and government are still trying to accept that women can do a job just as well as men but most jobs have accepted that.

Boys stereotype girls; they think women don't understand sports and instead they watch stupid television shows. Men and boys think that women need to do all the house work and cleaning and take care of their family. They also think that PMS makes every girl mad, now I know girls like to blame their poor behavior on PMS so boys and men are led on to believe that is correct but it is wrong. PMS doesn't make every woman mad or grumpy.

Most of all, these are common stereotypes in our highs schools about girls:
•
I'm pretty so I'm not virgin
•
I speak my mind, so I'm a jerk•
I eat lunch, so I'm fat
•
I am skinny, so I'm anorexic
•
I have guy friends, so I'm having sex with them all
•
I have big boobs, so I'm easy•
I'm black, so I talk with hard to understand slang
•
I'm rich, so I am a stuck up •
I have piercing, so I am emo
•
I do theater club, so I am gay
•
I'm smart, so I don't have a social life
•
I'm sporty, so I'm stupid
So are these stereotypes really fair? Can we judge a person on the outside and think we know them? How come stereotyping is so practiced in society if we know it is wrong? How come no one else is speaking out?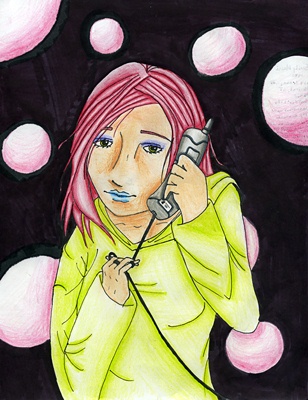 © Emily M., Milford, CT