New Pages
January 19, 2013
Sometimes we need to turn a new page in life.
People do this by 'forgiving and forgetting'.
But my motto is: there's only 1 chance in life, and although there's unlimited pages, we can't afford to forgive, and certainly not forget. Second chances are acceptable. Second chances don't imply that you're tearing a chapter out from your life and replacing it with one from your hopes and dreams. Forgetting can be dangerous. You can repeat mistakes you've already made when you forget. Which means you repeat the consequences.

****

The ink on the pages in my book of life is still wet, not set in stone, prone to be smudged in the haste of rushing. I try to take time, but my patience in running thin. Holding the page delicately, I reminisce my past by flicking back through the chapters. I marvel at the number of times I've been forced to start again, clear my life, and turn the inky, jumbled handwriting into a fresh white page.

I hope what I've written this time won't be a disaster, like the countless others. I seem to be addicted to the wrong decisions, but maybe this page will be my last. Maybe I won't need to start again.
Maybe.

I look back distastefully at a chapter I call the 'dark days'. Days where I was lost, unsure and alone. I had felt permanently unhappy and friendless; it was rare when my true smile showed. Luckily these days were short and my dark tunnel finally found a beam of light; at first faint but then burning brightly, until eventually blinding. I thought my life had begun and there would be no need to start again. Yet 31 chapters later, here I am, convinced I've made the right choice – this time.

The ink has nearly set. There's no going back now. I smile nervously, feeling my throat clamp up and my heart reach my mouth with the knowledge of my failed past. I re-read what the new page says. With a horrible twist in the pits of my stomach, I recognise it's tainted with confusion, anger and loneliness. Again.

With pure frustration, I skim back to the 'dark days' chapter and rip it all out, extracting my past, yanking the ink-stained pages out from the spine, the pages that caused me so much pain. Shards of paper fall onto my lap, mocking me, laughing. I let out a dismayed scream and tear them apart, tears of exasperation slipping out of the corner of my eyes. When my yell placates, I realise I've taken out these pages from my memory. I've forgotten.
Maybe that's okay.
Maybe that's what I need to start again.
Maybe.

So I turn another new page and start again, convincing myself it's for the last time.
Maybe I'm actually going to be right.

Maybe.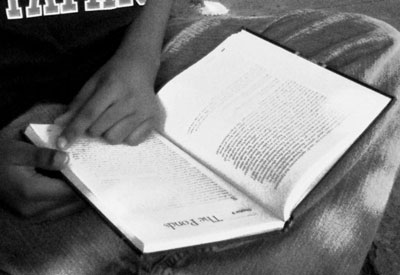 © Allan L., Plano, TX