Progress in Today's America
February 8, 2017
In today's America, we stand in two roads diverged in a Post-America world. We have the chance to attempt to maintain the status quo in the world and slip out of power or we have the chance to make progress in today's America.
"Everyday you may make progress. Every step may be fruitful. Yet there will stretch out before you an ever-lengthening, ever ascending, ever-improving path. You know you will never get to the end of the journey. But this, so far from discouraging, only adds to the joy and glory of the climb."
-Winston Churchill
Winston Churchill, being known for his strong character, would most likely agree with the idea that progressive ideals are the wheels that drive humanity as a whole. America, for a large part of the 20th century has been the wheels of of progress for the world. The actions of the United States have spread liberal democracies across the world, as other countries are now competing with the US in terms of economic, industrial, and cultural power. We now face the daunting task of remaining as the largest global superpower through maintaining either the status quo or through driving progress at home and abroad. Although difficult tasks seem daunting, once could easily argue the old aphorism that the harder a task, the more valuable it becomes to society. However, one must note that progress may only be truly cherished when that feat occurs against all odds. History shows that society sincerely favors progress.

No movement quite shows the value of attempting difficult tasks like female suffrage movement. Throughout America's history, the male patriarch frequently ensured that females were not entitled to equal rights. This, however, did not stop certain groups, such as the meeting body of the Seneca Falls Convention, from facing difficult tasks against all odds. When these ladies wrote, "The Declaration of the Rights of Man and Woman," they as Winston Churchill put it, walked the first step in an ever-lengthening journey of full gender equality. While these women successfully passed on their torches to future generations until the passage of the Nineteenth Amendment, society as a whole has not reached a state of total equality between the two genders. This relates to one of Churchill's thoughts on progress: it is an "ever-improving path." Looking back, one cannot doubt the value if those women's efforts who fought vigorously for what they believed was right.

Moreover, another example of progress involves the struggles of African Americans during the Civil Rights Era. Many individuals saw socioeconomic equality as an impossibility. However, when leaders such as Rosa Parks and Martin Luther King Jr. shared their dreams, African Americans confronted the nation's unjust laws and successfully fought for greater civil rights. Their efforts demonstrate how the more difficult a task seems, especially when it seems, "you will never get to the end," one's attempts become much more valuable. The success of the attempts, however, do not always indicate whether the step was fruitful. Rather, when one sees no end to one's struggle for progress, then one truly knows that the task at hand is indeed worth fighting for.
Furthermore, Churchill's description of the process of painting applies to today's modern politics more than ever.
Those who were disappointed by the results of the election should not feel discouraged, since if one feels that their beliefs will not be represented by America's current president, it means one should become even more involved in politics. If one truly desires progress, they should as, Churchill stated, "stretch out," before the path of progress. One must find where one can improve and act accordingly. By doing this, society as a whole benefits from the actions of individuals. When society breaks these barriers, it reinvigorates the spirit of progress which, "only adds to the joy and glory of the climb."

For these reasons, one could argue that the more difficult a task seems, especially when it seems like, "you will never get to an end," one's progress becomes of much more value to society. As shown by both the female suffrage movement and civil rights movement, history and society in general, favors those individuals who confront difficult tasks, especially when they seem impossible.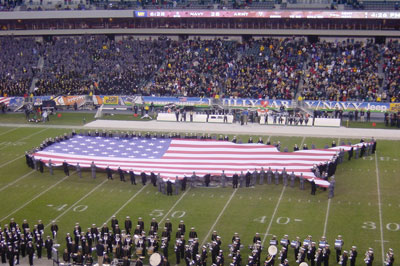 © Kristin B., Middletown, DE