Sexual Assault in Our Society
November 1, 2017
According to RAINN, an organization dedicated to the overall topic of sexual violence, every 98 seconds another american is sexually assaulted. This may seem a tad outrageous, but according to the Bureau of Justice Statistics, only 36% of rapes, 34% of attempted rapes, and 26% of sexual assaults are reported while the rest go unreported. That being said, sexual assault is becoming more and more normalised in our society.

It started with Bill Cosby and his 57 victims. Then it was the story about Brock Turner, a swimmer at Stanford. 20 minutes of action! That's how his father referred to his son's raping of a woman. Brock got a light sentence too! His athletic ability was put before his victim's dignity. And what did the victim get? Painful memories about her "20 minutes of action" behind a dumpster. Turner wasn't the only athlete to get away with his crime. A football team in Idaho got off easy after raping their teammate with a coat hanger. Our society has become so blind that we have rewarded Casey Affleck with an Oscar even though he was accused of sexual assault in 2010. The world watched as people applauded a man whose career should have ended 7 years ago. Recently, reports about his brother, Ben Affleck, have also come out. We elected Donald Trump knowing he has multiple sexual assault allegations against him. His words about sexually assaulting women were defended as being "locker room" talk. I don't know about you; but I don't talk about sexually assaulting people while I'm in the locker room. Just this past month, multiple brave women have publically stated that a Hollywood producer, Harvey Weinstein, sexually assaulted them. Other women came out about their sexual assaults by a man named Andy Signore who worked at an online company that produces popular YouTube videos. Some of these women also shared through social media that they had reported Andy to HR and NOTHING was done. During this time, other celebrities came out and talked about their experiences. Terry Crews bravely shared his story of sexual assault along with many others. Most recently, Kevin Spacey was accused of sexual assault of a minor. He "apologized", but I don't believe that that is enough.

When you ask why so many sexual assault cases go unreported, you should know that the victims feel unsafe and sometimes responsible. Victims go their whole lives blaming themselves for the crimes that are committed against them. To quote Viola Davis on her sister's sexual assault, "I wish I could tell my sister that she's not dirty and that she should not feel any shame for something that she literally was not responsible for." We need to stop asking what they were wearing and start asking if they are okay. Their clothing choices don't excuse the crime. Stop telling the victim that they were asking for it or that they clearly wanted it when we should be telling the predators that they are in the wrong. Teach your children, the future of our society, that we will not stand for sexual assault. We need to hammer into everyone's minds that no means no and yes means no until you are absolutely sure that yes means yes.

Stand with me against this normalization of sexual assault and sexual violence. Stand with me against victim blaming and minimal punishments for predators. And in conclusion, I'd like to end with a quote from Angelina Jolie: "We must send a message across the world that there is no disgrace in being a survivor of sexual violence-The shame is on the aggressor."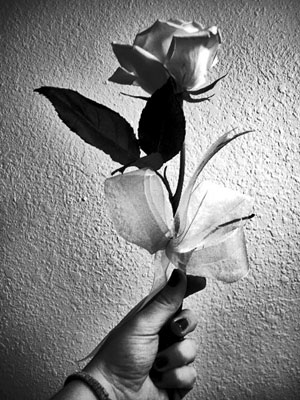 © Lauren R., Edmond, OK