She Just Looked It
July 22, 2011
Summary:
She looked too young to be in this class.
It wasn't the petite height, or the unsure eyes. It wasn't the way she kept quiet unless called upon, or the way she hesitated before answering each question. It wasn't the fact that she didn't bother to socialize with the other kids, or the fact that she paid attention to the teacher, yet seemed to be daydreaming at the same time. It wasn't the occasional flicker of her eyes from person to person, as if watching and keeping track of every detail in the room, or that cross between a satisfied and resigned stare, as if she wanted to make people think she loved her life, but, in actual fact, yearned for more.

There was nothing specific. She just looked it.

***

He was watching my every move.
I could tell from the way he scratched his notepad once in a while to make me think otherwise, and the way he constantly pursed his lips at the clock to make me think he wanted class simply to end. I could tell because of his dark eyes dancing to my figure when he thought I wasn't paying attention, and because he stuttered when the teacher called his name. I could tell by way of his stiff legs trying to keep as still as possible, and by way of the unnaturally jerked movements when shifting positions without catching my glare. I could tell how he wasn't ever looking at me when I turned to him, and how I could catch the eye of other students unaware.

It was nothing specific. He just looked it.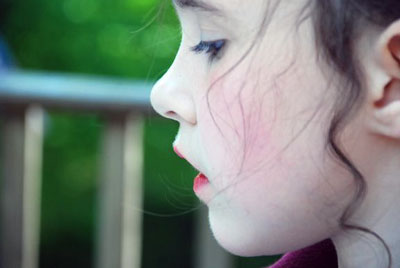 Theresa E.
She Just Looked It