I Hate My Ex Vampire
September 12, 2012
Summary:
"Oh fine." She said, stomping into Rose tree. A half an hour later, we walked out in our new dresses, shoes, and accessories. I was wearing a short silver dress with tassels all over it, silver sparkly bangles, and shoes that had clasps that spiraled up my legs. Katey was wearing a short coral pink dress with ruffles on top and a black belt in the middle, a pink LOL bracelet, and black ankle boots. We walked towards the boys and I could've sworn their jaws hit the floor. We grinned and walked over to them.
"Whoa!" Cody said.
"Whoa is right!" Jake agreed. Jake looked me up and down twice and Cody glared at him jealously.
"Dude, at least look at Katey and not Ashley, she's my girl and you know it!" For a split second, I thought I saw his eyes turn red, and then, just as suddenly as it had come, it was gone.
"Dude, easy, you can't say if you see a hot girl you don't look at her!" Jake said, putting his hands out in front of him.
"Hey, calm down." I told Cody, grabbing a hold of his arm. He wiggled out of my grip and pulled out his phone. He smiled at the screen and said he had to go.
"Ashley, can I talk to you for a minute?" Katey asked me, grabbing my arm. She dragged me over to the benches and we sat down.
"What is it?"
"Did you see the way he smiled when he read that text? And how suddenly he left, even without an I love you?"
"Yeah, of course I noticed it, but he could've just been going to a movie with his brother or something." I said, seeing her point.
"Maybe we should go investigate."
"No, Katey, we can't."
"Why not? Would you rather date a cheater, or figure out he's cheating and break up with him?" She said, a certain fierceness in her eyes. I looked at my new shoes and rubbed my arms.
"Break up with him." I mumbled. She nodded.
"Alright then, let's go."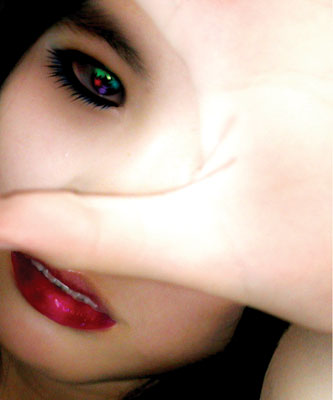 Tori F.
I Hate My Ex Vampire