Look to the Eyes
June 27, 2010
Everyone knows, from the time they're a few months old, that a smile means a person is happy and a frown means they're sad. But who exactly decided that, may I ask? Who decided that when your lips turn down you're upset and when they turn up you're delighted? Because I'd like to have a word with them.

If we try to frown but make our eyes happy, we encounter some difficulty. Why? Not because a frown automatically makes your eyes incapable of mirth. Just because we're taught: smile=happy, frown=sad. What if people said, just do whatever you feel like when you're happy? What if there had never been the concept of fixed facial expressions? Some people would probably frown. Some people would probably smile. Those who are unobservant might be hopelessly confused.

But here is my advice: Look at their eyes. The eyes don't lie. Whether the person was smiling or frowning, if their eyes were happy, they were happy. If the eyes were sad, they were sad. Your eyes are like small channels to the soul, reflecting your mood in their glassy surfaces. So if you want to know if someone is happy or sad, don't look to the lips; look to the eyes.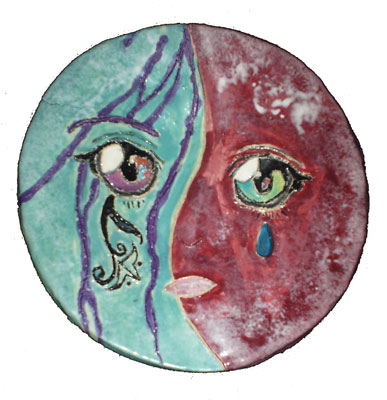 © Angel V., Tecumseh, MI