Please Hesitate to Crack
January 20, 2015
I don't know what's happened to my neck lately. I don't seem to…sleep well anymore.
Well, lookie-lookie. When bedtime comes, I use a long purple pillow that my mother wisely bought for me. What with my midnight cramps and needs to spoon, it seemed like a good idea at the time.
However, when I startled awake to my Lady Gaga's "Applause" alarm, I found that as I slept, my head was about a foot below my pillow. My pillow was way above my head. It's not like I don't try to fold the long thing in half and sleep so my neck is supported, but I didn't have anything stronger than cranberry juice the night before, so I don't know how that happened.
Now, I crack my neck constantly.
Constantly.
I must, otherwise, I'll have a tight, aching sensation in my sternocleidomastoid area.
I spend 72% of my day with my head turned in a ninety-degree angle.
Every two and a half minutes, I have a crick I need to crack.
And my back is no better. I have to twist and turn to crack my cricks. I can't take it anymore. I hobble along like an old lady instead of strutting my stuff like other female girls my age.
If anyone can recommend a chiropractor that can put your neck and back into place I would really appreciate that. Okay. See ya.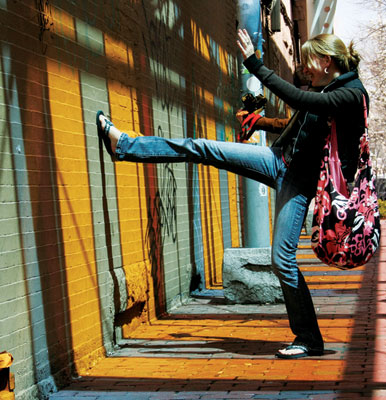 © Marina S., Vineyard Haven, MA