Depressing Advocacy
MAG
Oh, one of those commercials again. While watching some television after school, the notorious commercial slithers sinisterly upon the screen. An emaciated African orphan cries in a barren Sudanese landscape. His herniated belly and the tears that seem to cleanse his face of grime are most upsetting as I engulf a thick PB&J. I set my sandwich down next to a neglected Dickens novel and feel horrible about eating and griping about required reading. Watching this sad commercial prompts me to hop to the computer and research this region, dubbed Darfur.

I come to find that Darfur has been plagued with civil war and genocide. According to SaveDarfur.org, an estimated 2.5 million people have been forced from their homes into poorly equipped refugee camps - or they've been forced out. Just out. Out into the Sudanese environment, vulnerable to AIDS, rape, starvation and the ever-present force of the horribly corrupt government of Janjaweed militia.

Yes, horrific. Nauseating. Nothing to quell hunger, quench thirst or quench the shocked, ravaged mind of refugees who are stripped of even bare essentials, simple human necessities. These are bad enough, but what is also terrible is how many of us have absolutely no idea about this human tragedy of Sudanese genocide.

I conducted an experiment. The next morning at school with a small group I happen to "belong" to, I snuck my thoughtful advocacy in by saying, "You know what's sad? The genocide in Darfur." The only replies were "Darfur? Genocide?" All I replied was "Sudan?" sarcastically. The worst reply I heard, believe it or not, was "Where's Sudan?" I experienced some erudite angst, jaws dropped, wondering what that person was thinking.

Then all of a sudden the conversation surrendered to last night's episode of "American Idol" and the rumor lurking about so-and-so and what's-his-face.

At first I just felt ... annoyed. Annoyed at what pop culture has mutated into, annoyed at the high-school bubble that seems to keep everyone's mind encased. I was bothered. Agitated. Frustrated.

I wondered how something so horrific seemed tangibly unknown, couldn't strike an emotional chord. I wondered how AP-glorifying, latté-sipping, Barnes- and-Noble's group-study teenagers could be so unlearned about Third World events. We, the future of America, seem to know a very minuscule amount about the hellish genocide that occurs in Sudan every day.

I fervently thought like this for a couple of minutes and realized that perhaps I could channel my anger and advocacy in a beneficial way - to raise awareness, emotions, and worldliness.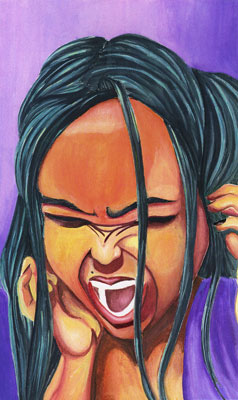 © Anonymous