Oh, the Irony.
November 22, 2014
Dear Teen Ink editors,
Hello! How's your day been? Mine has not been so swell. Recently, I submitted a piece that I was very, very proud of regarding feminism. The poem discussed people's discussion, or lack therof, about the topic and how people often feared the word "feminism" as it is so controversial in today's society. I went on to discuss the benefits of feminism; in no way was I vulgar, disrespectful, inappropriate or incorrect in my grammar.
Today, I woke up to an email saying that my piece was not published.
Oh, the irony! I was within all constructs of the Teen Ink regulations of poetry and yet my poem was rejected. This fear of the word feminism has infected Teen Ink, my safe haven for sharing thoughts and ideas. Even here, I am asked to be silent about something my heart sings for. Even here, there are hands covering my mouth, shushing my desires for equality, and freedom. I am still stifled, because I support feminism, because I am young, because I'm just a silly little girl.
I have had good fortune with Teen Ink. I've been published many times, and I have great respect for the writers here. Yet, I am so angry. I cried hot, bitter tears when I read the email, scanning the lines for signs of a joke. I am so TIRED of being silent. In a way, I think that this happening has only gone on to support my thinking about people's fear of controversy, even what that controversy is approached respectfully, alebit passionately.
I will continue to speak about feminism and my love for it, even if I recieve an email reminding me that my pieces cannot be published every single day. It's an endless march, feminism, and I do not know the worst of it. Today, however, I have been reminded cruelly why I fight for it.
Respectfully,
Megan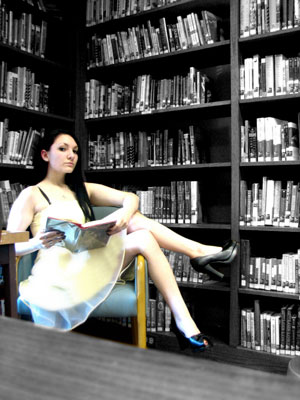 © Jessica F., Bradford, MA