Jonny Craig of Dance Gavin Dance in Major Trouble
February 25, 2011
Twitter was launched in 2006 for people to be able to keep up with their friends and family. Later, celebrities joined Twitter, and you could follow your idols to see what they're up to. Seems pretty amazing right? What if one of your favorite singers was selling a MacBook for only $600-$800 over Twitter? A MacBook for that cheap AND it's from a very talented vocalist. Seems too good to be true – possibly, because it is. Jonny Craig, known for being in the bands Dance Gavin Dance and Emarosa, was accused of selling laptops, but never going completely through with the transaction.

The transactions were always the same. He would have potential buyers contact him on his e-mail, where he would give them his number. The number was confirmed to be his by many of his past friends and acquaintances. He would text with the people, and even called a few to make the transaction seem as believable as possible. Then he would ask for the money to be sent to him through a Money Gram or Western Union, promising that he would send the laptop as soon as he received the money. Once he would receive it, he would start making up excuses on why the laptop wasn't coming or that he couldn't get the post office. Jonny Craig denies the fact that it was him posting the tweets on his Twitter. He pleads innocence and claims that someone hacked his Twitter, but the evidence against him is almost solid.
From the amount of people who have said that they were scammed, the total comes up to $8,000 - $12,800 dollars. At Western Union, to either receive or send money, you need an ID. The transfers were sent in his name to his hometown. Fake ID's do come and go, but with someone like Jonny Craig, it would be hard to fake an ID and get away with it. Many of the people are coming together, posting screenshots of text messages shared with the vocalist and pictures of the transactions with Jonathan Craig's name.
His friends and band mates have already had their word on the situation. His close friend, Mod Sun, said in a tweet, "Dear friends, so one of my very close friends Jonny Craig has recently made some very bad decisions. His actions are now being directed at me by certain people he hurt/ripped off. I am now forced to address this issue. I truly apologize if you have been taken advantage of by him….it's very sad. I need you to understand that I have NOTHING to do w/ any of this. I mean absolutely nothing. He had someone pay pal me $ one time for his old laptop he was selling. It was transferred to me & I immediately gave him cash. This was about 35 days ago. Any point after that my account was NOT used. He continued trying to sell a MacBook for a month after that. I truly apologize for his actions because I feel bad for the people who try to support him & get hurt. I'm one of those people as well. I would never treat my friends like that. So, there it is. I have called him & let him know the severity of the situation & am tryin to help yall."
Eric Lodge, bassist of Dance Gavin Dance, released a statement saying, "I'm writing this as a reaction/personal outlet to Jonny's most recent actions. They strike me as disappointing, but in no way surprising. Selfish individuals often do egomaniacal things. In my opinion, this is consistent with his repertoire. However, in previous instances such selfishness didn't come at the expense of his faithful fans. I plainly wanted everyone reading this to know that he acted as an individual, and this has nothing to do with any other members of DGD or even Emarosa. Many of you have every right to be angry. I wrote this with no intensions of defending Jonny; instead I would simply like those who are angry to understand the rightful direction of their emotion. As for any advice for Jonny… In the words of Elton John, 'the bulldog is barking in the backyard.'"
Jon Mess of Dance Gavin Dance said in an interview with Mind Equals Blown, "If you attempt to beat up Jonny Craig at a show on our tour, I will be in a secure and hidden location filming with an HD camcorder and a boom mic. I have also always dreamed of having a highly successful YouTube video."
Not many people are on his side, not even his friends, seeing everything that's against him. It's sad that a vocalist would betray his fans' trust like that. Did he really think that someone well known, like himself, wouldn't be caught for something like this? There is also some blame put on the fans. Wouldn't you find it fishy that someone would be selling MacBooks for that cheap and even had that many to sell in the first place? Jonny Craig is innocent until proven guilty, but with the way things are going, Jonny should learn to keep a good grip on his soap.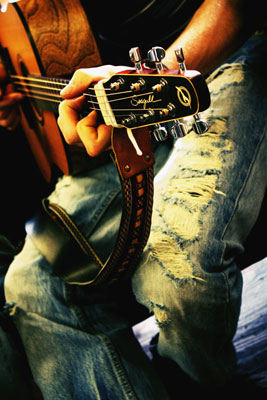 © Sam W., Bellevue, WA