I Want Someone Like Him
November 25, 2009
I love to read books and watch movies with happy endings. I really do. And I love to read books and watch movies where the guy-saves-girl and the seemingly pre-historic notion of chivalry is my dream. I've read all the books in the Twilight series many times, and like thousands (or even millions) of other girls, I swoon over Edward Cullen. Not because he's a vampire and I have a thing for the occult, or because he's sparkly and I like diamonds. I don't even wish for a boyfriend who's called "beautiful", "perfect", "flawless", and can carry me in his arms while running at super-speed! No, the thing that attracts me to Edward Cullen in the same thing that draws me to Mr. Darcy.
I watch the guys around me, and some make me shake my head, while others make me bat my eye lashes. I'm not watching for one with a muscular physique, I'm looking for someone who opens doors for girls, lets women walk before him, and will stand on the subway so that the old lady who smells weird can sit. The thing I love about Edward is that he so obviously is looking out for the clumsy Bella.
Now, we're not all as accident-prone as that heroine, but I do believe that most girls, even the staunchly feminist ones, really only want a guy who will look out for them, protect them at all costs, and carry them away into the sunset. In this modern age, where men and women are often treated as equals, I know that what's true for me must be true for many. Girls don't want to be a guy's equal, they want to be a treasured, protected, delicate prize! They want to be loved, and doted upon, and picked up when they've fallen. I know there are always those who will plow on ahead, "I don't need guys!" No, you're right, you don't. But they need you.
My Mom always says when I come home complaining about how so-and-so is so much nicer when he's with me than when he's with his buddies, that "Girls have a civilizing effect on guys." I'm sure that's true. Haven't you ever seen the movie with the hunky football guy getting all nervous and panicked and shy in preparation for his date?
I just want a guy…who will walk up and introduce himself on my first day at the new school and ask me (with no ulterior motive) if I need any help finding classes. I want a guy…who will come over when I'm sick, and help my Mom serve me soup and tea. I want a guy who won't make sick jokes in front of me, but can still goof off with his friends. I want a guy who will dress up for homecoming and take me to the dance even though he can't stand wearing a tie. I want a guy who will open the car door for me. I want a guy who will give me options for date night, yet still be creative enough to come up with ideas himself.
I know this guy. He's a couple years older than me, so I'm not stupid enough to have a crush on him, though we are casual friends. I will call him "Aaron". I know another girl who is his age. I'll call her "Christie". They are really good friends, and share a lot of mutual connections. He's hot, sweet, funny, popular, and just nice. He so obviously adores her. She's tiny, cute, sweet, popular and nice. She makes it clear that they're just friends. And he's okay with that. He still sits with her at lunch, they stand talking in the hallway, and they went to prom together. He's totally fine with being friends, nothing more, because that's what she wants. He never acts jealous, he never tells her what she should do, and when she broke up with her boyfriend a couple months ago he let her cry on his shoulder. The thing that gets me about him though, is not just his total chivalry towards her, it's the fact that he extends that same courtesy to all her friends, and me, and even all of my girlfriends. I watch Aaron and Christie, and can't believe they don't date. He provides hope that the world is not totally uncivilized. You look at Aaron, and wonder why girls settle for less than a knight who treats you like a princess. I want a boyfriend just like him.
It's a good thing he's got a little brother.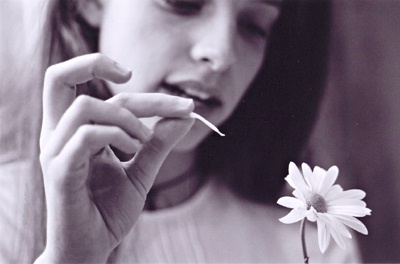 © Emily B., Houston, TX