The Countdown
March 18, 2019
When you first walk into high school you expect to be scared. It's something we are taught when we are younger. We are taught to fear the idea of something new. Whether it's a new place, a new person, a new hobby. We simply just know to fear the unknown.
Walking into high school for the very first time wasn't all that scary for me. I mean I knew some of the students who went there, I knew where my classes were. I knew what was going to happen. It was going to be the same thing I had experienced in middle school and elementary school. Something was still different. Maybe it was the taller students, or the huge hallways. I had been used to a smaller school. My eighth grade graduating class only contained about fifty or so students, while the surrounding schools had hundreds.
First block, or period, was very interesting. The teacher was explaining the seating chart and honestly I couldn't stop shaking. I don't know why I suddenly got so nervous. I guess I kept thinking "wow this is my first class as a high school student". I had finally got hit with the realization that I was no longer a middle school student. I was now expected to do more with my life. That realization hit me like a bus. It was hard to recover.
I sat in my seat and began to write my name down for the attendance sheet. I could barely get my name on the paper. It looked like I let my puppy, Koda, write it. I was so nervous. Those eighty minutes went by quicker than I thought. At around ten thirty, it was time for lunch.
Lunch time was the most nerve wracking part of my first day. It was a constant decision going back and forth in my head when it came to where I was going to sit. I wanted to sit with my middle school friends but then I also wanted to sit with my new high school friends. It was like my brain was sitting on a ping pong table, the paddles hitting it back and forth across the small net. I couldn't decide. Someone finally grabbed me and dragged me to their table. I guess my decision had been made. I sat down at my new lunch table with the rest of my middle school friends and we ranted about how stressful school already was. I guess you could say that we were being a little overdramatic.
Lunch was over and eventually it was already time for the last class of the day. I was so excited to go home and go back to sleep. Getting up before the sun was not my thing. I went to my biology class, honestly one of my favorite classes, and started to prepare for a whole new set of students. I sat in my assigned seat and flipped through the huge textbook that was sitting on my desk. I saw some pretty basic stuff about ecosystems and all that, nothing too extreme. The eighty minutes dragged on and eventually I heard that beautiful sound. The sound of the last school bell of the day. It was two thirty and I was ready to run home. I was so glad that my first day of high school was over. I think I had simply forgotten that I had four more years left.
The countdown had officially begun.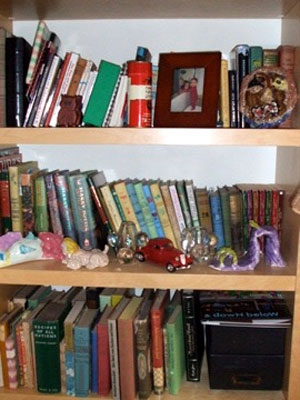 © Nina M., San Francisco, CA