To Hell and to Heaven
August 13, 2011
There are three words that make any person's temperature rise,
"Go to Hell."
To those out there who take Heaven and Hell very seriously, no offense intended. To those who are non-Christian, don't worry I am secular, and am only thinking about this in the philosophical sense. To those who oppose my article for reasons not mentioned above, mind your own business.
To begin my note on the two H's, first I must define what they are. On dictionary.com, Heaven is defined as the abode of god, the angels, and the spirits of the righteous after death; the place or state of existence of the blessed after the mortal life. Hell is defined as the place or state of punishment of the wicked after death; the abode of evil and condemned spirits.
I predict that if you asked every person in the world to define their own personal Heaven and Hell, then you would get a lot of answers. For some Heaven might look like the world's most beautiful closet. For others it likes like a fully stocked fridge and high depth 15 inch plasma on the day of the super bowl. Foethose in love Heaven is being in the arms of the one person you love most in the world. Foethose who aren't compare Hell to being stuck in a loveless relationship.
But now that we discussed location, we also need to discuss motivation. Though it's probably general opinion that says people go to Heaven for being good and to Hell for being bad, really why do people go to either?
As Mark Twain had said,
"Go to Heaven for the climate, Hell for the company."
People don't usually say to their companions,
"Hey, why don't we go to Heaven for a little R and R? I heard its beautiful there." Or say,
"I heard Hell is pretty hot around this time of year, but I heard that lots of interesting people go there."
For lack of more information, no one actually plans or decided where they want to go in their last moments on earth. No one actually knows if there even is such a thing; if it's just a fairytale to help people deal with the pain of a lost loved one or for people to feel that justice is brought to all the villains in the world. No one knows unless they get to either place, and even then no one can hear them say if its real or not, and the one of the parts that scare us most.
As we have discussed motivation, we need to discuss population. Who can those who are good or bad, naughty or nice, or even right or wrong? There are seven deadly sins defined in the Bible: greed, envy, gluttony, lust, sloth, wrath, and pride. But do people go to Hell just for being a little lazy on the weekends sometimes? Do people go to Hell for being overweight as they may be so because it is in their genetic genes or if they just like to eat? Is it horrible for people who have strong feelings for each other to connect in the most intimate, closet way possible before marriage? Now where would you put those people? Heaven, Hell, Limbo …Canada?

What happens to where we'll be in life is determined by thinking. Thinking about the future and where you'll be when it comes. Thinking about the present and what you're doing right now. Thinking about your past mistakes and the people and things that influenced your life. Thinking about others and what they're like on first impression, those people's thoughts, dreams, actions, traits, sins, saintly deeds, etc…
The truth is we really can't know on first impressions who someone is and where they belong. People cannot be limited by how other people expect you to be or act. People cannot limited by what they cannot control and should not be judged for it.
Finally, people cannot be limited by the idea of where they should go and they think themselves should do to get in. It's a little like college, no matter how many clubs you get into, no matter what kind of people you know, the main thing that matters is what kind of person you are. Don't worry about location, motivation, or population, instead use intelligence, kindness, compassion, and humor and the future will follow.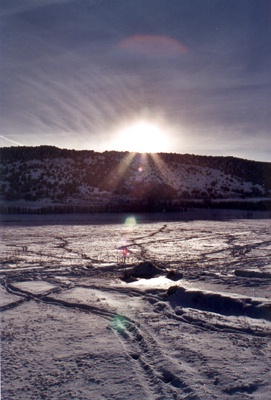 © Brandon T., Manila, UT