My Heart for Thee
April 20, 2009
Her beauty is divine,
And she doesn't even try.
I love her
And need her
To continue forth on this
Harsh, Corroded path
That is life.

I need her, and as the earth
Shakes, and crumbles,
As the darkness tumbles,
And I stumble...
I continue onward.
A vision of her rests lightly
In my mind,
Nay,
My soul,
My heart.

But, I am afraid of one thing.
I cannot love her for fear
Of never seeing her.
But what is sight but a sense?
Overruled by my love for her.
Love is more important then mere
Sight.
For without love,
What are sense?
You can never full enjoy life without love.

Love is war without guns,
It is pain without words,
Without physicalities.
For there will always be someone
Denying your love.
And jealousy calls forth war.
I will protect you while this war wages.
I will be your armor,
Your shield,
And your sword.
And all I ask in return is your
Undying love and affection.
And nay be false,
That of which I ask.

I need you, and I am willing to overcome
Every obstacle to be
Within your grasp,
Within your life.
Just let me prove thy faith,
And you shall not be unsatisfied.
Take me in, for I took thee in with
Gratitude
And gratefulness.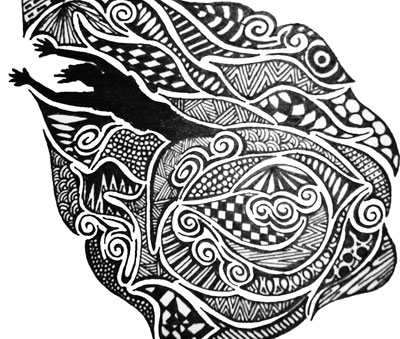 © Caroline B., Haworth, NJ