Healed
April 26, 2009
The sun reached out lovingly,
Welcoming the day,
And below in the water,
Bits of life danced and played.

And a figure stood there,
By the jutting cliff-shelf,
Unsure of the world,
And unsure of herself.

But she knew she could find it,
When the timing was right,
The thing she was missing,
That was just out of sight.

And you had to have courage,
To do something like that,
Facing your future,
And mostly, your past.

So she took one step forward,
The wind in her face,
And embraced the beauty,
The light, and the grace.

Yes, this would leave scars,
Like a sharp piece of glass,
But perhaps she could live,
With all that had passed.

So she walked up to the water,
And lay herself down,
While opening her heart,
To the sights and the sounds.

With her hair in the sand
And her feet in the sea,
She closed her eyes and thought,
"This is who I will be."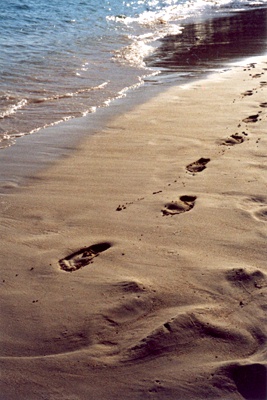 © Ashley B., Potomac, MD