Eyes
July 14, 2009
Eyes black and pupils rounder than the moon,
She walks.
Little movements and tingles run through her body,
Like a waterfall pours into a body of water.
Her lips stained with the red paint her body creates.
She pauses,
Takes a breath,
And digs her shiny white fangs into her lip harder.
"The best feeling ever"
She claims she never wants it to go away because she loves it.
But in her mind she knows the real reason why.
She knows once her heart slows back down,
And she can see straight,
And finally lives reality again,
The pain is coming back.
She cries every night.
Sucking in her sobs so nobody is able to hear her.
"I can't take this.!"
She says over and over,
So sick of the pain and anger,
She swallows it in,
And sits there.
Allowing these "incredible" feelings to rise.
She sits there and just lets all the world freeze.
Its her time to just smile.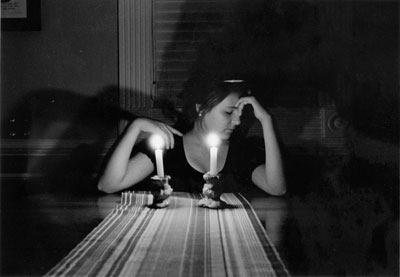 © Eleanor K., Bethesda, MD