Reasons
March 19, 2010
I've come to realize
How selfish my poetry can be.
For the most part my rhymes
Have been all about me.
And I can never seem to understand
Why anything ever goes wrong.
So I cant find a solution
To keep this pain from stinging too long.
My friends are all worried
Some disguise it with
Humor and all too
Obvious lies,
But for the life of me,
No matter how hard I try,
I cant shake this attachment
To sadness and this
Feeling of insane madness
That I latch my life to
And wrap my dreams around
And the dramatic music i play in the
Scenes in my head
Is way too profound.
Why cant I just swallow
The tears
Instead of letting appealing outsiders
Whisper sweet everythings in my ear?
I choose not to
Make things okay?
I'd kill myself before
I see that day.
So instead I drown myself
In lies and insane pleas,
Reaching out for attention
You always seem to give to me
Perhaps out of fear
That I might really be insane
So you ride alongside me
On this roller coaster of pain
All for nothing.
Everything we love will go up in flames
And you cant seem to put it out.
And I cant seem to respond to my name...
Is this how its going
To be forever?
I, the product of a mother
Who never seems to want to understand?'
I. the offspring of a father
Who expects to be worshiped on his command?
I, the sister
To a failure.
The last hope of pride
For a devoted business man and a broken bride?
Understand that I write
To make big things fade
Behind metaphors and
Worlds that I have made.

Understand that this is me
And every inch of me.
This is who I am
And, for years to come, will be.
I write so
We all can learn
and maybe unlock sealed
Chambers in my heart.
I write
To give you clues
That might help you to
Save me.
I write.
And all i ask
Is that you look
away and look past
The irrational titiles.
Look between the lines.
There are messages like
'please read' and 'help me'.
Answer the call.
I'm begging you.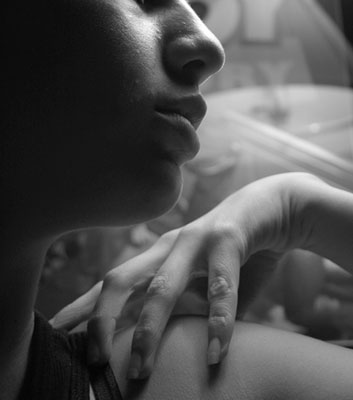 © Rebecca B., Santa Clara, CA