Fire ~
June 1, 2011
If love is friendship set on fire,
then I've got burns of the third degree.
Can't be extinguished just with water
only with you is my heart set free.

Flying high, far off the ground.
My heart is far above Earth's surface.
My mind is saying that I'm crazy,
but it is you that I really miss.

I have no fear when I'm with you;
I'm completely free to be myself.
Your heart holds no judgment and
your love is not measured by wealth.

But is it love or something else?
I guess maybe it's nothing at all.
But I feel there's something there;
something, no matter how small.

I wish that I could just tell you;
just get it over with by and by.
All I want is for you to know,
and you could - if I wasn't so shy.

You think that I'm outgoing,
and although that may be partly true,
I always seem to panic
and get nervous when I am with you.

Just saying it would calm me down
because after, we could go from there.
But there is one thing that holds me back:
rejection, which is the only scare.

I love you. There, I've said it now.
So where do you and I go from here?
Onward and upward they all say.
The answer to me is crystal clear.

If love is friendship set on fire,
then my heart has been consumed by flame.
Longing for your touch, your presence,
forever and always, my love will remain.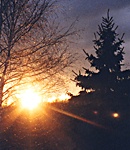 © Christy S., Germantown, NY