No Shoes
July 30, 2011
The sky is angry
At the land,
It screams and howls
In Ares's hand.

It soon forgets
Much of the grass
The cats, the bugs,
The fragile glass.

And so my bottle
Glows orange and blue
The wind came by
And knocked it askew.

It lies there waiting
On oceans of grass
Too lazy to get it
It's too far to pass.

So what did I do,
Did I put on a shoe
Or envelop my feet
In the chlorophyll dew?

Nay I did nothing
Forgive me not
For the laziness tugged
While child's hearts burned hot.

I found a most
Easier way
To get to the booty
And not go astray.

The pirate's ship
I climbed aboard
"To the bottle!" I said,
"Let's loot the hoard!"

So the sea in my face
And the sky still angry
A moment of thrill
Gives me child's candy.

My hair flies dandy
Whipped air clears eyes
I lift up the bottle
My candy, my prize.

A few moments lost,
a few yet gained,
But my hungry heart,
has been wildly tamed.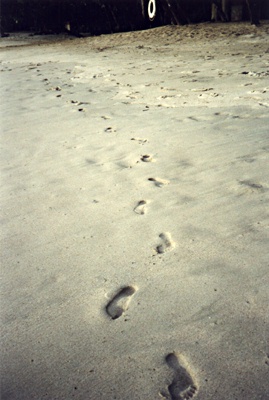 © April W., Rogersville, MO