The Chrysilisation of Me.
January 25, 2012
I am but a caterpillar; crawling through life all alone.
I'm Insignificant. Invisible. Unloved. Unknown.
My beauty has yet to reveal itself to anyone but me.
It's simply dwelling somewhere within.
Somewhere only I can see.

There's beauty within my soul; yet it goes untold.
My heart is beautiful, too; My heart is made of gold.
But in everyone's opinion, I am just a caterpillar.
And in the eyes of the world that makes me worthless,
for to them outer appearances are all that matter

I wish I could show how beautiful I truly am inside.
But After careful deliberation, I've come to a conclusion.
The only way out is to hide.

I'll wrap myself up in a cocoon; my own personal shield.
My Armor of choice.
And temporarily block out everything and everyone,
Every dis-approving voice.

Perhaps someday I'll come out of hiding. I'll break through the chains and set myself free.
I'll emerge from my safe haven of silk and reveal the transformation of me.

I will no longer crawl through life.
I'll soar. I'll fly. I'll dive.
With my magnificent wings.
High above the world.
Atop everything.


I will be significant. Loved. Never forgotten.
And the best part is, I won't even have to try.
After all, I will be the world's most amazing creature.
A beautiful butterfly.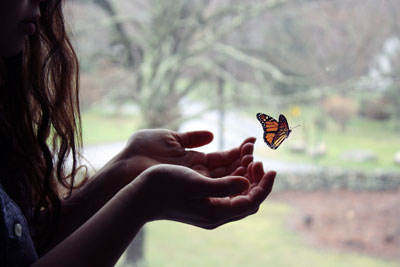 © Sandy H., Woodbridge, CT