Trapped
May 17, 2012
Caught in a bubble all my life
Pin in hand I feel I'm ready
To pop my world wide open
And make a new one
All bright and shiny and new
I'll make it for Me

It's a funny thing Me,
Wants a new life
When I don't know anything now, so new
Worlds are things I'm ready
For, right? I want one,
So I'm ready, right? Eyes open.

Eyes close, one blink, open
Again. I hear Me.
Blink again, eyes open, close, one
Two. I hear it calling, my new life,
I'm scared to answer, but ready.
Definitely ready. I want this new

Someone watches Me, a new
Fascination. Mouth agape, open
Wide like a fish; hungry for food and ready
For dinner. They stare at Me.
Must wonder why I chose this life.
Why I don't make a new one.

Funny, they don't know I'm trying for a new one.
Courage is what I need, new
Confidence to pop the bubble, end this life
With a pin; I have the tools, in my open
Fist lays the pin. all I need is Me
To muster some confidence, I am ready.

Me is not. Half of Us are ready.
Me is not. She is the one.
Who holds Us back. I wish Me
Would just do it. But I don't expect anything new,
Just the same old world open,
But Us closed in here, won't get our new life.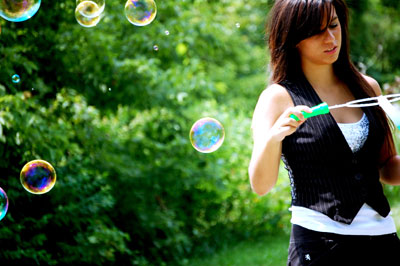 © Brianna C., Lincoln Park, MI