Autumn Brings the Beauty Back
September 2, 2008
The hot and heavy air of summer
Is slipping away with the leaves.
The gentle rain caresses the ground,
Parched from the summer sun.

The birds' song disappears.
The flowers become dull and faded
As the summer sky turns to gray.
The color is replaced by the tones
Of the fragile leaves, curling in the air.

The warm breeze of august turns
To the cool gusts of September,
Making me feel alive again.
The jack-o-lantern on the doorstep
Only helps to lift my heart higher.

With the shivers in my body,
I feel that summer has died,
But through the years, I know
The children jumping into leaves
Only marks the start of a new summer.

The lush trees only strip away
So they can feel fresh again in spring.
Spring is the season of false hopes while
Summer is the season of being
Always too hot to move.

The heat overwhelms, so you strip away
Your clothes, as the trees do.
Autumn is the season you can't miss
And winter just puts out your last coals.
Autumn brings the beauty back.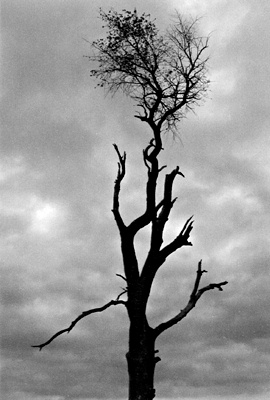 © Cassie H., Carmi, IL