the beast
April 22, 2013
He has come back for me.
He's pulling at my core knocking at my door.
Screaming my name out into the darkness.
To most he appears normal almost harmless.
But to me he is a beast on my flesh he wishes to feast.
My soul he wishes to keep.

He won't leave me be.
Everywhere I turn he is what is see.
He is there waiting to pull me to the dark side no matter where I hide.
He awaits in the shadows ready to pounce.
When I see him I close my eyes and to ten I count.
And when I open them he is gone.

He is large like a beast of the 7 seas.
The deepness of his eyes never seem to cease.
His mouth is full of large sharp jagged teeth.
His stomach is large so his victims he can keep.
His claws are that of knives.
His head reaches the skies.

He looks like something straight out of hell.
When he takes me will anyone hear me yell.
He will take me back with him from where he came.
And on a head stone there will be my name.
He will take me in the darkness of the night.
So that no one will see our fight for we are out of sight.

There was once a time that I loved him.
But with his powers he made me sin.
He blinded me so that I could not see.
What would have become of me?
With him there my mind was in a fog.
He succeeded in pulling me away from my faith in god.

He made me believe that he had loved me.
When really I was in shackles with chains never to be free.
I realized this with just enough time and I escaped.
Then I saw him for what he really was. A fake
I saw that underneath the mask of a human he was a beast.
And my eternal soul is what he really wanted to keep.

For my end shall come soon.
Please don't say I'm just seeing things. Please don't take me for a fool.
For you he appears as someone you see everyday.
Why wont you hear my warnings or listen to what I say.
He has tricked you so that you will not see.
So that you will not see him for what he really is. The beast.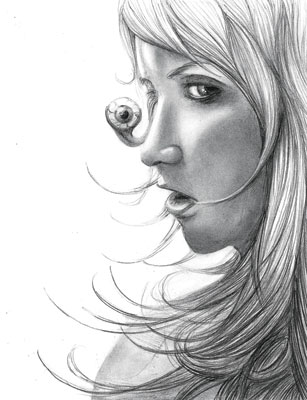 © Jessica P., Bethel Park, PA