Sitting In Nature
November 19, 2008
Let's sit here in nature
and watch those
birds bash their heads into the trees.
Let's make a nest in the sun
amongst the tall grasses
towering beyond our heads.
Pretend like everything that passes
doesn't exist,

except me and you today.
Just for the record
the weather is quite blissful
with occasional flurries of jealousy

no where near our forecast.
Sitting here in nature,
we'll make connections and assumptions
of the meaningless nothings

neighboring us.
We'll fall asleep in a warm ambiance
and wake up only to wake up

all over again.
We'll make sense out of something
that is plain disgusting
to everyone else
but not for us,
Because everything they fail to understand
we will breed our own meanings of.

Wouldn't it be wonderful if

inspiration was edible?
We'd swallow it slowly,

let it pass through our whole bodies.

Wouldn't it would be wonderful
if we looked at what we passed by,
instead of where we're just headed at the time?

Disconnected from everything around
we'll find the inspiration and perspective

to fabricate our own kind of day.
Getting something out of their colorless ways
right here,
sitting in nature
watching the bashing birds
in the silky sun bathed grasses.
Belonging to our own
separate,
unparalleled



world
Sitting here in nature.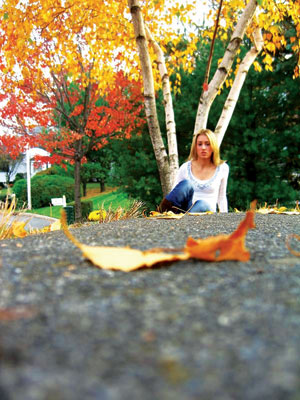 © Stephanie F., Garnerville, NY